Sighting of giant floating biomass in Loktak Lake baffles authority
The newly found phumdi or floating biomass measures around 20 hectares in area, officials said.
---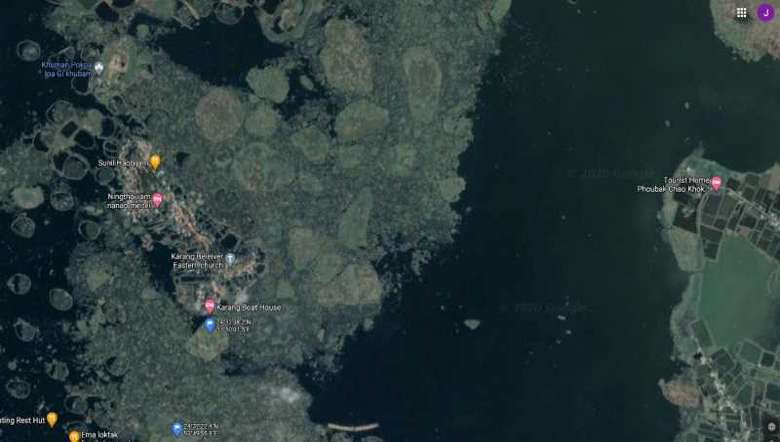 The sudden sighting of a huge phumdi (floating biomass) measuring around 20 hectares in area floating on the southern side of Loktak Lake in Ningthoukhong area has baffled forest officials of Bishnupur district in Manipur.
DFO Bishnupur Rebika Soibam told the Imphal Free Press that the department learned about the floating phumdi on October 25 at around 7.30 am. The phumdi is so large and thick that the height of the Tou (locally found grass) is above 11 ft. The department has used a drone camera to trace the areas, she said.
While the origin of the phumdi is yet to be confirmed, DFO Bishnupur speculated that it could have originated from Mayang Imphal (Toubul) or between Thanga and Karang.
Rebika said that a team of division forest officials along with the Toubul Youth Development Association, the Indian Bird Conservation Network, the Coast Guard Thinungei and the WildLife Explorer members paid a visit to the phumdi. However, due to the sheer size and thickness of the biomass the team could not spot anything, she added.
"So far we could not detect any signs of animals or birds in the phumdi or not. But we believe that there could be wild pigs, khara etc as a phumdi of this size is an ideal place for animals habitat," said Rebika.
Rebika observed that the phumdi diverted from its normal course into Loktak Lake due to the change in the water current owing to the opening of all the floodgates of Ithai barrage.
The phumdi may float towards Sendra as the wind is currently blowing from the southern side. And there is a possibility that it could slowly move towards the north again during January and February depending on directions of the wind, the DFO said.
"If the phumdi floats towards Sendra it is the responsibility of the Loktak Development Authority (LDA) to clear it, which is why we have informed LDA as a precautionary measure," the DFO said. She appealed to the villagers residing in the surrounding areas not to clear the phumdi for it may destroy the habitat of animal possibly living on it.
First Published:
Oct. 26, 2020, 10:20 p.m.