Several hundreds of people brave heavy rains to save paddy land in Manipur
"Saving paddy land is saving Manipur," the protesters cry out.
---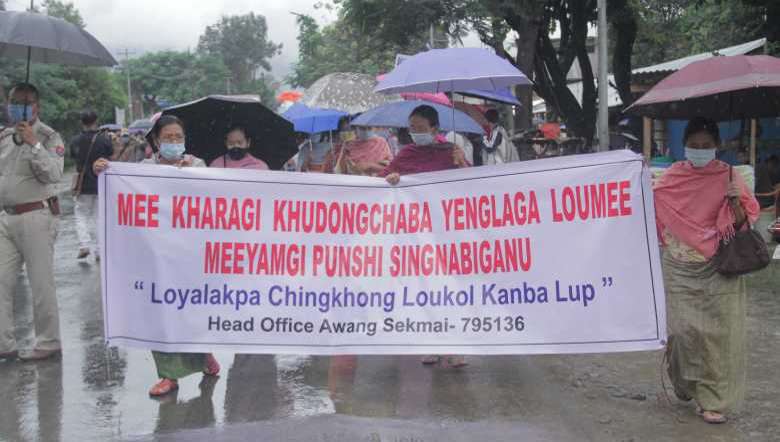 Protesters hold rally in protest against government's agricultural land acquisition plan at Awang Sekmai on Oct 24, 2020
---
Braving heavy rains, several hundreds of people gathered at Awang Sekmai in Manipur on Friday and marched in protest against the government's proposed plan to station Central Security Forces at their agricultural land. They also held a sit-in protest demonstration, saying, "Saving paddy land is saving Manipur".
The state government had proposed an agricultural land acquisition plan to shift the Central Security Force personnel stationed at Koirengei Airfield to 3- Keingam under Loyaklakpa Chingkhong Loukon. Opposing it, a huge number of protesters held a rally and sit-in protest demonstration in the rain at Awang Sekmai on Friday, holding placards with the slogan – 'Save Paddy Land' and 'Saving Paddy Land is Saving Manipur'.
Villagers of Awang Sekmai, Kanto, Kanto Sabal, Kanto Achouba, Keingam, Leimakhong Chingmang, Kanto Premnagar, Keingam Dwarika, Keingam Machangram, Khunkhu Naga village and Khunkhu Kuki village took part in the protest.
The protesters also included volunteers of several student organisations such as the All Manipur Students Union, Apunba Imgai Maheirol Singpanglup, Democratic Students Alliance of Manipur, Kangleipak Students Association, Manipur Students Federation and the Students Union of Kangleipak.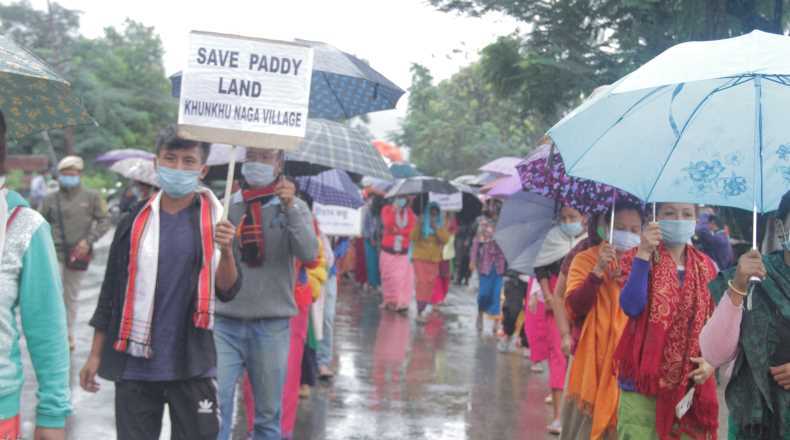 The present government can be considered a 'totalitarian government' if it goes ahead with the plan to shift the Central Security Personnel Station to 3-Keingam despite the protest by the locals, Loumi Sinmi Apunba Lup(LOUSAL) president Mutum Churamani said at the protest site.
The state government is inviting a mass protest from the public if it decides to go ahead with shifting of the station or to expand it, thereby affecting the land of the farmers, he said.
Pointing out that ending poverty and hunger everywhere by 2030 is a part of the United Nations agenda for sustainable development, Churamani contended such a plan of the state government to use paddy fields for other purposes will not help in making the state self-sufficient and will not reduce hunger.
"I own a paddy field at Keingam and it has been a source of livelihood for my family. However, after knowing that the government has a plan to shift Central Security Forces stationed at Koirengei Airfield to 33- Keingam, I do not know what my future holds," a local of Awang Sekmai, Usham Ningol Amubi said.
Another local, Angom Rajesh said that people of Keingam will never accept the government plan to shift the Central Security Personnel stationed at Koirengei to Keingam. He claimed that in the past, locals have donated land to the state government and they have not received compensation till date.
Although the Manipur Conservation of Paddy Land and Wetland Act 2014 had been enacted, it has been observed that construction of buildings and other structures have been on the rise from the year 2017 to 2020, Churamani said.
The protesters submitted a memorandum to Chief Minister N Biren Singh through Sekmai SDC. The memorandum stated the paramilitary forces if moved to Keingam would affect a large number of farmers and villagers who depend on the agricultural land at 33-Keingam.
The memorandum further reminded the chief minister that he had earlier assured the people of the area that the land would not be purchased and used against their will when they met him on November 17, 2019. They appealed to the chief minister to understand their plight and scrap the plan to shift the paramilitary forces which will affect farmers and people in the area.
First Published:
Oct. 25, 2020, 10:39 a.m.