Government more focused on byelection than in tackling COVID-19 pandemic: CPI
The CPI said there is a strong need to enhance the preventive and precautionary measures against COVID-19.
---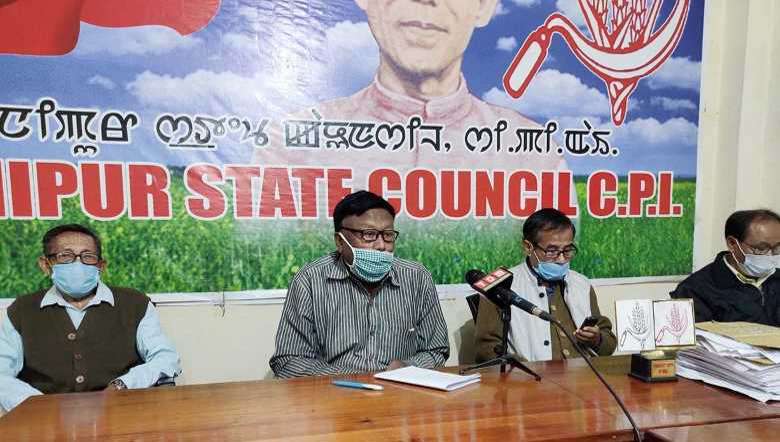 Manipur CPI on Saturday slammed the BJP-led government for shifting its focus on the upcoming byelection and becoming lackadaisical in tackling the COVID-19 pandemic.
CPI secretary L Sotinkumar said that the leaders of the state are focusing on upcoming byelection instead of saving lives from the pandemic.
The leaders should get rid of such mentally at least during this critical situation. Otherwise, the situation will worsen and go out of control, he stated while speaking to the media on Saturday at Irawat Bhavan.
Noting that the COVID-19 pandemic is getting very serious each day, Sotinkumar pointed out that experts are already predicting that the pandemic will worsen during winter season. As such, there is a strong need to enhance the preventive and precautionary measures, he added.
The CPI secretary further said Chief Minister N Biren had announced various steps to curb COVID-19 in the initial period of pandemic. He even assured of setting up dedicated COVID-19 hospital. But, instead of fulfilling his assurance, most of the academic institutions were converted into COVID care centres, he contended.
He also mounted pressure on the state government to set up 500 bedded dedicated COVID-19 hospital at the earliest.
Condemning Biren for not inviting the CPI in the meeting held to fight COVID-19 pandemic, Sotinkumar lamented that the CPI was never invited in most of meetings where all CVOs, political parties, officials were invited to discuss about the COVID-19 pandemic till date.
"Many CPI members are working tirelessly since the onset of the pandemic. However, the leaders of the state never invited CPI in such meeting. We also want to share our ideas and opinion in combating this pandemic," he added.
Supplementing the briefing, assistant secretary of state unit CPI Kh Surchand said that the state government should regulate the testing cost of COVID-19.
"There is also necessity to conduct surveillance and periodic analysis of rate of COVID-19 spreading. Taking up such activities would help in curbing ongoing pandemic to large extent," he added.
First Published:
Oct. 24, 2020, 10:23 p.m.