Massive landslide cuts off Imphal-Dimapur road at Khongnem Thana
People have been advised against travelling on NH2 as heavy landslide hits road between Senapati and Lairouching in Manipur
---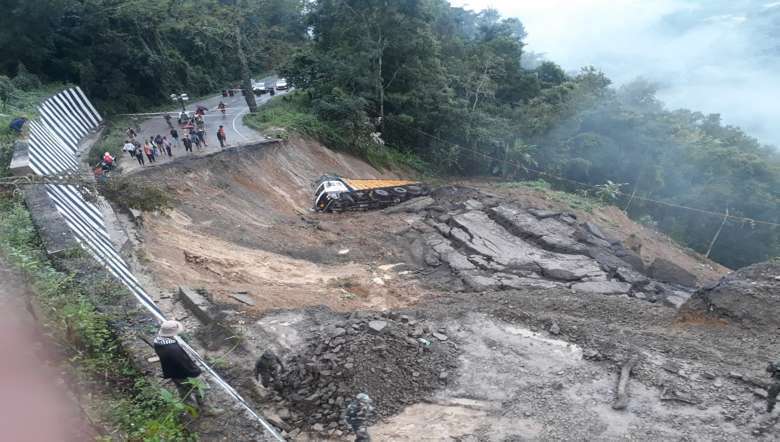 A massive landslide that occurred along National Highway-2 at Khongnem Thana in Senapati District owing to incessant rainfall since the past few days has cut off the Imphal to Dimapur road, the main lifeline of Manipur.
The landslide has caused a depression of almost 40-50 feet in length and 30 feet in depth bringing the traffic along the highway to a grinding halt.
A loaded truck belonging to Satyam Industry situated near Taphou Kuki village in Kangpokpi District was swept down during the landslide.
More than 200 vehicles, including loaded heavy vehicles and light vehicles, are stranded along the highway on both sides of Khongnem Thana, which is located approximately 12 km north of Senapati Police Station.
Local sources said that cracks began to appear on the national highway stretch since Friday afternoon around 4:30 and the landslide occurred later in the evening.
On Saturday, a team of District Administration and SP Senapati had rushed to the spot to take stock of the situation.
Bhartia Infra Private Limited (BIPL) officials had been quoted saying that they waited for the Ministry of Road Transport and state PWD to come and find out means to cut a new passage in the areas.
Senapati District Students' Association (SDSA) and Maram Students' Union (MKS) provided assistance to the stranded passengers and vehicles since Friday night.
Meanwhile, agreement was reached between government officials and owners of standing properties affected by the landslide for compensation of destroyed properties among others.
The agreement was reached after a meeting regarding landslide affected stretch at Khongnem Thana was held Saturday afternoon at community hall, Khongnem Thana.
During the meeting, measurement of land and plots along with standing properties were read out and confirmed.
It was agreed that compensation of affected land will be given at the rate of Rs 230 per sq ft and the valuation of standing properties will be done as per rules.
According to the agreement signed by chairman of Khongmem Thana and SDO/BDO of Tadubi, detailed measurement and assessment is to be completed by October 26 and valuation is to be done for the standing properties.
It was also agreed that the work on the restoration of the NH-2 shall be started with immediate effect in public interest and the village approach road will be constructed by PWD.
The agreement was reached in the presence of Addl Chief Secretary (Works), government of Manipur; DC Senapati; additional chief engineers of PWD; ADM Senapati, SDPO Senapati; village authority and affected land owners.
First Published:
Oct. 24, 2020, 10:14 a.m.