Seven-year-old boy fell into river as water level rises, DC cautions to be alert
Youths from neighbouring villages along the Challou River have organised a search team to locate the boy.
---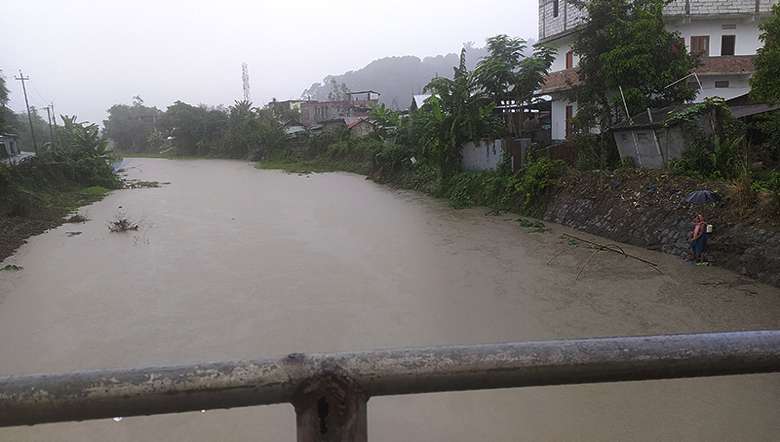 (PHOTO: IFP)
---
In an unfortunate incident, a seven-year-old boy fell into Challou River on Friday at around 8 am at Huishu village and an intensive rescue activity was carried out to locate the boy.
According to information received by this IFP correspondent, the seven-year-old boy, who has been identified as Tuisak Huishuwo, son of Paomi Huishuwo of Huishu village, fell into the Challou River this morning while they were on their way home.
One Tuithing Zingkhai of Huishu village has informed that the family had gone to their field for their paddy harvest but due to the torrential rain, they decided to return home. Since the water level of the river was rising sharply, they decided to cross the river by the suspension bridge.  While going towards the bridge, the boy fell into the river.
Youths from neighbouring villages along the Challou River have organised a search team to locate the boy. The search team from Chingai, Poi, Kuingai, Challou, Tusom CV, Wahong are looking for the boy along the Challou River. As per latest information received, a pair of shoes of the boy was found at Poi village side at separate spots which are about 1 km and 3 km respectively away from the place where he fell.
It is also learnt that two rescuing volunteers were badly injured when the vehicle they were travelling met an accident. Villagers informed that they were given first aid at Assam Rifles outpost at Poi and will be taken to Ukhrul District Hospital tomorrow for further treatment.
Meanwhile, deputy commissioner of Ukhrul, Joseph Pauline Kamsom issued a notice on Friday to caution against the flood and landslide in Ukhrul district due to the incessant rain for the last few days.
The notice said that the people of Ukhrul district should keep a close watch and contact the numbers, 9366015939, 8731018101 and 8794825294 for any emergency. Most of the rivers have crossed the danger level and there is possibility of damage of properties and land due to the floods and landslides and even loss of human lives, it added.
First Published:
Oct. 24, 2020, 8:42 a.m.