BJP opens account in Singhat, Ginsuanhau elected unopposed
11 candidates in fray for remaining four seats
---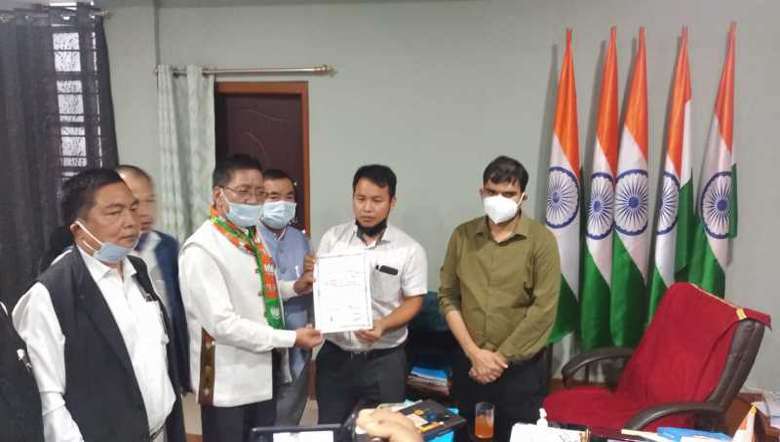 (PHOTO: IFP)
---
BJP candidate Ginsuanhau Zou alias GS Haupu on Friday was declared elected as Singhat MLA uncontested after his opponent withdrew his nomination.
Ginsuanhau lone opponent Chinlunthang, an independent candidate withdrew his nomination on Thursday. Accordingly, he was declared duly elected by the returning officer (RO), Thangboi Gangte.
Later in the afternoon, the candidate accompanied by minister Vungzagin Valte and other BJP leaders received the certificate from the Returning officer of 60-Singhat by-election Thangboi Gangte at the office of Churachandpur DC.
A thanksgiving cum celebration was held at the newly elected MLA's residence located at Lailam Veng attended by minister of TA & Hills, GAD and Transport Vungzagin Valte, election in charge of BJP Banjamin Mate, Churachandpur District BJP president Khaipau Haokip, election coordinator  Henlianthang Thanglet, MDCs, leaders of different frontal organisation and  party workers of GS Haupu.
Speaking at the occasion, Ginsuanhau expressed gratefulness for the victory and becoming the MLA of the people of 60-Singhat AC. He said that he is thankful to God and his supporters, leaders of BJP who help him including the CM of Manipur who always supported him. He further stated that on April 17, 2020 he had resigned as MLA for the interest of his people and also as per the wish of UPF and KNO who are on talks with the government.
Ginsuanhau also expressed gratefulness to all stake holders and Chinlunthang for the uncontested victory.
This is the third win for Ginsuanhau who was first elected with a Congress ticket in 2012. He was also re-elected with Congress ticket for the second time 2017 assembly election but later joined the BJP fold for which he was disqualified under anti-defection law last august.
Meanwhile, Chinlunthang , who withdrew his nomination on Thursday also held his workers' meet at his residence at Zoveng where he said that he withdrew his resignation for the unity and peace of the Zou Community in particular and people of 60 Singhat AC.
He further said that his appointment as OSD by the government in the Tribal Affairs and Hills department was declined by him in public interest and was submitted in written on Thursday.
Friday was the last day of withdrawal of nomination for the by-polls to five assembly constituencies of Manipur due to be held on November 7.
Of the total 16 candidates who have filed their nominations for the by-polls, three candidates withdrew their nominations till Friday. Of the three withdrawals, two independent candidates were from Lilong constituency.
With this, there are a total of 11 candidates in the fray for the by-polls in four remaining assembly constituencies namely Wangoi, Wangjing Tentha, Lilong and Saitu. The candidates in the fray are four INC, three BJP, one NPP and two independent.
First Published:
Oct. 23, 2020, 9:48 p.m.