Churachandpur has highest COVID-19 confirmed tally in hill districts of Manipur
Churachandpur has also reported the highest death toll among hill districts in Manipur, followed by Kangpokpi and Tamenglong
---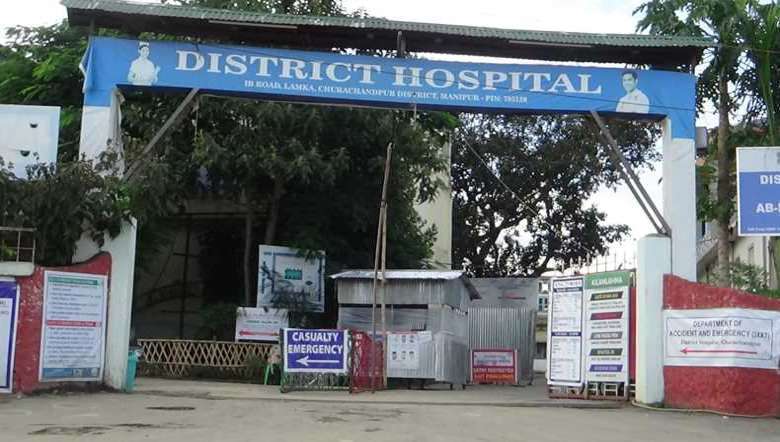 Churachandpur dstrict hospital, Manipur (File Photo: IFP)
---
Churachandpur has the highest number of COVID-19 confirmed cases among the nine hill districts of Manipur, spiraling above 1300 mark, followed by Tamenglong and Ukhrul till date. Churachandpur has also reported the highest number of deaths with 11 fatalilities followed by Kangpokpi with six deaths and Tamenglong, three deaths, according to the state health department.
According to the state health department, Churachandpur reported its first COVID-19 case on May 16. Since then the confirmed cases in the district has risen to 1,321 (987 males and 344 females), while 737 patients have recovered and active cases totals 393 as on Wednesday. And, the district reported its first COVID-19 fatality on August 21. Since then, the number of COVID-19 related deaths in the district has risen to 11.
Recently, Chief Medical Officer of Churachandpur district hospital Dr Vumchinpau Tonsing had proposed in a letter to the deputy commissioner of the district lockdown in COVID-19 hotspots in the district. The lockdown was proposed in view of the "rampant community transmission" in the hotspots of the town where people are seen not complying with COVID-19 SOP. The areas are New bazar areas, New lamka, Tuibuang Bazar area and old bazar area, the CMO stated.
New Bazar area as specified in the letter are Tedim road Junction to Thangzam road, front of Nute Bazar area up to Laitui Pharmacy, Tedim road Junction to Red-cross road, Back of Nute Bazar area upto Donbosco road. New Lamka areas as specified are Tedim Road to Dorcas Road Junction to Damkam Bazar area, Tuibuang Bazar areas as specified are Kamdou Veng junction to Tuibaung road and Old Bazar area including Rengkai Road.
Tamenglong and Ukhrul, which has the second and third highest number of Covid-19 infections among the hill districts, have reported a cumulative number of 735 and 519 confirmed case respectively till date. The number of active cases in Ukhrul stands at 35, including security personnel, as 484 patients have recovered, while in Tamenglong, 535 patients have recovered and 197 are active cases. The recovery rate in the district is 72.8 per cent.
Tamenglong also reported COVID-19 infection among 14 of its frontline health workers, including three doctors, till Wednesday.
In view of the alarming rise in the district, where large number of family members were infected, the district administration had recently ordered containmnet zone of crtain hotpsot areas and houses. Shops and markets in the town area remain reclosed. 
Kangpokpi, which has the second highest COVID-19 deaths, reported a cumulative of 489 positive cases, including 61 active cases and 422 recovered cases till date.
Kamjong reported a cumulative of 111 confirmed cases till October 18, while the number of active cases in the district was reduced to 16 as 95 patients have recovered till date.
Pherzawl district had 33 COVID-19 positive cases and all the 33 patients are reported to have recovered.
Tengnoupal district, as of Wednesday, had reported 91 COVID-19 confirmed cases, including 22 ctive cases and 69 recovered cases.
Meanwhile, the total state tally of Coronavirus confirmed cases rose to 16,276, including 2,686 Central Security personnel, while the death toll rose to 124 as on Wednesday.
In view of the surging number of Coronavirus positive cases in the state, the public has been told to dial 24x7 Covid Common Control Room Number-1800-345-3818. Online teleconsultation by government doctors from home (10 a.m. to 3 p.m. every day except on Sunday) by downloading eSanjeevaniOPD app at Google Play store or go to website www.esanjeevaniopd.in.
ALSO READ
Journalist, 14 healthcare workers among 735 Covid-19 confirmed cases …
JNIMS closed after 16 staff test positive for COVID-19
2,686 security personnel test positive for Coronavirus in Manipur
First Published:
Oct. 22, 2020, 1:27 p.m.