Driven out of the road for over six months, autorickshaw drivers in Imphal reel under Covid Crisis
In dire need of means to feed their families amid the Covid-19 pandemic, some passenger vehicle drivers have started to come out on the streets, hoping to earn some money. Some try to sell off their autos, but in vain.
---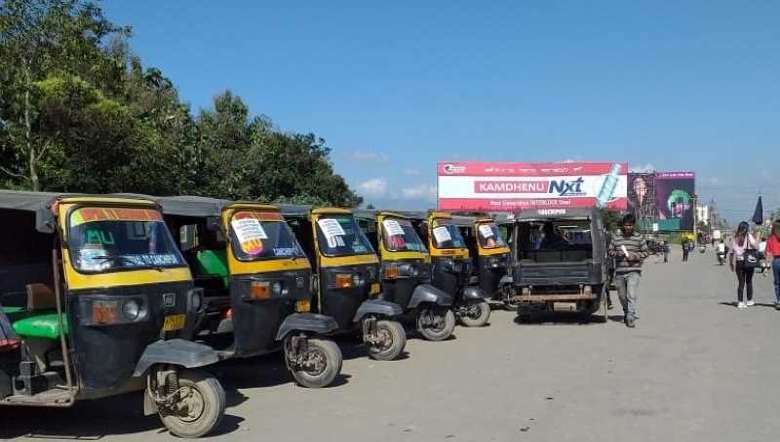 (File Photo: IFP)
---
It's been over six months of no service for passenger service vehicle drivers since the Coronavirus pandemic spread to Manipur. They have been driven out of the road since the nationwide lockdown and the subsequentCOVID-19 containment measures and restrictionsenforced in the state to check the spread of the virus. Till today they remain off the road as many hesitate to travel by public transport for fear of contracting the viral disease.  Left without any viable income to support themselves or run their families, some drivers of passenger service vehicles, including autorickshaws, Magic and Winger, in Imphal valley, capital of Manipur in Northeast India, are left with nothing but two options before them – to be exposed to the risk of Covid-19 infection and succumb to it or to die of starvation.
Daily passenger service by autos, Magic and Winger among others were brought to a complete halt since the last week of March as a precautionary measure against the COVID-19 pandemic. However, since the lockdown was withdrawn, in the past few weeks, some passenger vehicle drivers have started to come out on the streets, looking for people to hire them and hoping to earn some money. With no other means of livelihood, some try to sell off their autos to get a little money to sustain their families, but in vain.
"I want to sell off my auto so that the little money I get from it will help in running my family. But nobody is willing to buy my auto-rickshaw now that it is rendered kind of useless by the restrictions on movement," auto driver Arun Mayanglambam of Khurai area said as he tirelessly wait at Khwairamband Keithel (Market) daily for some women vendors or shoppers to hire the vehicle.
The old auto, his prized possession, has been keeping Arun's family running for years.
"The auto has been keeping the family for the past more than five-six years. Theunprecedented lockdown hit hard and it was two months ago that I thought of selling it and started looking out for buyers. As nobody is willing to buy, I had to come out and wait for people to hire me to make sure that my family, including my seven-year-old kid do not starve," Arun said, adding that he gets a hire for his service once in a while.
The year was 2007 when diesel auto-rickshaws became popular in 'unemployment-hit' Manipur. By the year 2012, diesel autos replaced about 70 per cent of the state's passenger vehicles for day-to-day commuting in the capital areas.
According to secretary of the Joint Administrative Council for Diesel Auto Societies, L Somorendro Singh, there are around 12,000 diesel autos providing passenger service in Manipur. Out of it, nearly 7,000 diesel autos pass through Imphal City.
Speaking exclusively to the Imphal Free Press, Somorendro said, "An auto driver in Imphal area earns an average profit of only Rs 400-500 in a day. As such, cessation of service for more than six months is more of a virtual death sentence for the drivers".
"All the little savings have been used up in catering to the daily needs of the family," he said.
When asked how the drivers are managing all these months without any viable income, Somorendro said that many have to obtain essentials on credit and some of the affected drivers are resorting to joining construction works, carpentry and whatever jobs they can derive a little income from.
One 46-year-old L Ibopishak of Top in Imphal East sold off his auto a month ago. "I realised I can no longer depend on the auto to feed my family," said Ibopishak, who used to provide passenger service along the Porompat Road till JNIMS Hospital in Imphal.
Ibopishak, who was a construction worker prior to providing passenger service, is now switching to his old profession. He is currently engaged in a construction work.
"I was thinking of retiring from being a construction worker but it seems I have to continue for a while," Ibopishak added.
While many others are helping in agricultural works, the remaining less skilled are confused and lost, Somorendro said, maintaining that majority of the auto drivers get their vehicles through loans and are still struggling to pay back the loan amount.
Deprived of livelihood means for months, many have been forced to venture out amid the surging number of COVID-19 cases. That is why some autos and Magic vehicles are seen plying on Imphal roads to sustain themselves. They are only hired and are not providing line service, he added.
Saying that the number of drivers coming out on the streets will only increase, Somorendro mounted pressure on the government to come up with specific guidelines and Standard Operating Procedure so that passenger service may be resumed at the earliest.
The Joint Administrative Council for Diesel Auto Societies had in June submitted a memorandum to the chief minister, urging the later to allow resumption of passenger service or to provide relief measures to the affected drivers.
However, there has been no response so far from the government, contended Somorendro. They are considering to approach the court as the government has remained apathetic, he said.
He also said that auto fares have not been revised by the government since 2008.
This reporter took a survey in the Imphal areas and some autos and Magic vehicles were seen plying on the roads and some others were seen in front of hospitals and market areas.
The latest Unlock 5.0 guidelines issued by the Home Affairs Ministry on September 30 stated that there will be no more restriction on inter-state and intra-state movement of persons and goods transports, including those for cross land-border trade under Treaties with neighbouring countries.
However, the latest Unlock 2 guidelines issued by the state home department on October 1 stated that there will be no bar on inter/intra-district movement of "private vehicles" and persons outside the curfew hours.
The specific mention of "private vehicles" in the guidelines issued by the state has caused confusion to passenger service providers whether they are being allowed or not. They are now mounting pressure on the government to frame specific guidelines and SOPs to resume passenger service.
When this reporter enquired officials of the transport department, the officials said that specific guidelines or SOPs are currently not being discussed.  However, the vehicles are not being stopped from carrying out their service, they said.
Perhaps, to clear the confusion and provide relief to passenger vehicle owners and drivers, it is high time the state government bring out a specific SOP for resuming passenger service by vehicles other than that of Manipur State Transport.
First Published:
Oct. 19, 2020, 1:15 p.m.