Special courts set up to try criminal cases against MPs, MLAs in Manipur
The two special courts have started functioning since October 13.
---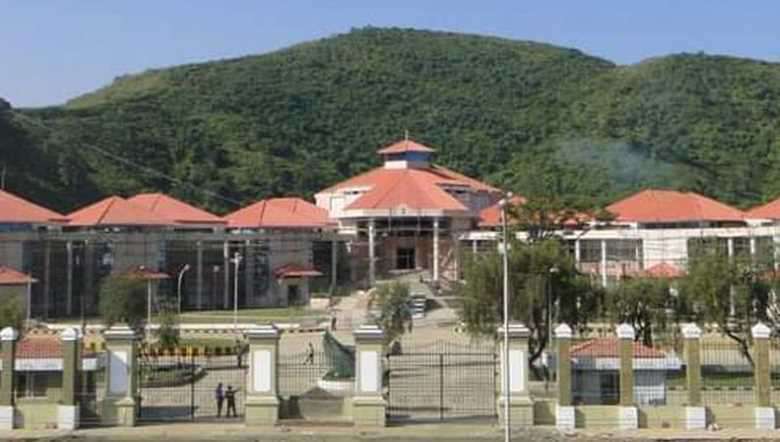 Manipur High Court (PHOTO: Len-IFP)
---
The Manipur government has set up two special courts exclusively for conducting trial on criminal cases against former MPs and MLAs in compliance to a directive issued by the Manipur High Court.
In its compliance reported submitted by the law department informed the HC that the two special courts have started functioning since October 13.
The constituted special courts are named as Special Court (MPs/MLAs) No 1, Manipur (session courts level) with additional district and session judge (FTC), Manipur West as presiding officer and Special Court (MPs/MLAs) No 2, Manipur (magistrate level) with presiding officer chief judicial magistrate, Imphal East.
The department mentioned that in the two special courts the prosecution officers are assigned additional duties from their normal duties and no extra remuneration will be given to them.
On October 1, the High Court issued the order in compliance with the Supreme Court order asking 25 states and union territories and the high courts to place before it full and complete updated information about the status of cases pending against MPs and MLAs. This was followed after some states failed to furnish the details of pending cases and progress against legislators despite the several orders issued by the apex court.
The apex court had issued directions, suggestions and guidelines to be followed in relation to cases registered against the sitting and former MPs and MLAs, and that these cases should be investigated without undue delay. Wherever the chargesheet has not been filed, it should be filed in time and the special courts dealing with the cases should expedite the trial on priority basis, there should not be any scope of delay, the apex court had said.
Against this backdrop, the High Court had also issued separate directives to the police, prosecution office, forensic, special agencies like NIA\CBI among others.
Accordingly, the Forensic Science Laboratory (FSL), Pangei in its report said that three of the four cases against four politicians were disposed of and reports were collected by investigation agencies. The remaining one has been taken up and put under examination.
The four cases are against ex MLA of Wangoi AC Oinam Lukhoi under section 121/121-A/34 IPC, 20 UA(P) A Act & 5 epl.sure act at JMFC, Imphal West court; MLA Sekamai AC Heikham Dingo under section 376/417IPC at CJM, Imphal West court; ex MLA Wangkhei AC Okram Henry under section 9A/25A/29 ND&PS Act at Special court of ND&PS (FTC), Manipur; MLA Saikul AC Yamthong Haokip under section 120-B IPC, 21 & 23 (I) of UA(P) Act 1967 and 25 (IAA) and 30 of A Act at Special Judge NIA, Manipur. Among the four cases, the case against Oinam Lukhoi is pending and is under examination before the FSL.
However, the submission from the directorate prosecution office stated that there is no report of pending or charge sheet pending in respect to cases that involved former or sitting MPs and MLAs with the directorate.
Further as per the submission of FSL it informed that it does not have broadband internet connection. However, internet access done from the laboratory is by using dongles. Due to irregularities, the access is not reliable and is difficult to have video conference facilities in the lab.
FSL had submitted a proposal to the ministry of home affairs to have a secure broadband connection and to provide additional fund of Rs 26, 08, 052 for national knowledge network connection from MPTC, Pangei. Once NKN connection is available, facility for video conferencing will be possible.
The NIA has also submitted a report stating that safe and secure witness box in the Special Court (NIA) are not functional and sought for providing the same immediately.
A division bench comprising Chief Justice Ramalingam Sudhakar and Justice A Bimol of the High Court of Manipur directed the law department to provide a safe and secure witness box of the Special Court (NIA) immediately. Advocate general and public prosecutor (HC) has been directed to coordinate with the law department to ensure that a safe and secure examination room of witnesses is established immediately to designate courts.
As per the police report, additional Superintendent of Police (Prosecution), Manipur has been designated as Nodal Prosecution Officer to ensure production of accused persons before the respective special courts and execution of NBWs issued by the courts. The officer shall also be responsible for service of summon to the witnesses and their appearance and deposition in the courts. Any lapses on the part of Nodal Prosecution Officer will be liable to disciplinary proceedings apart from initiation of contempt of court proceedings.
Further, the governor of Manipur issued designation of additional SP of 16 districts in Manipur as additional SP (prosecution) in addition to normal duties.
First Published:
Oct. 17, 2020, 11:03 p.m.