52 government websites to be made visually impaired friendly
The Social Welfare Department has also planned to make available all policies and welfare schemes taken up by central and state government in braille script.
---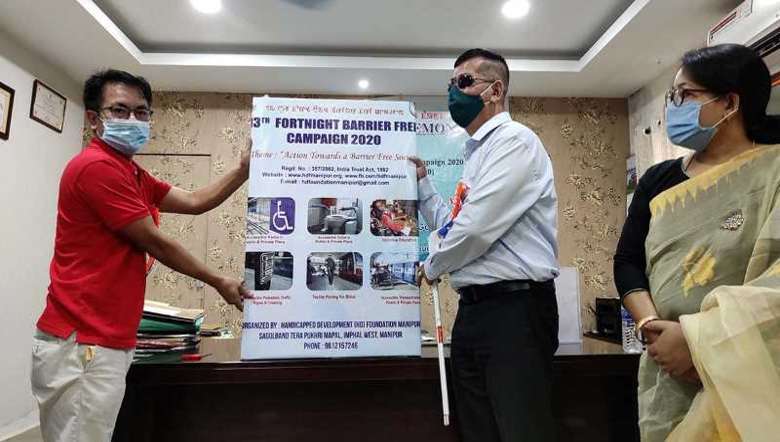 The Social Welfare Department has identified around 52 government departments to convert their official websites into visually impaired friendly ones to address the information barrier faced by the visually impaired people in this digital world, Director Ngangom Uttam has said.
Uttam announced this during the launching function of "13th Fortnight Barrier Free Campaign" held on Saturday at Department of Social Welfare. It was organised by Handicapped Development Foundation under the theme "Action Towards a Barrier Free Society".
Addressing the launching programme, Uttam said that differently abled persons are the most vulnerable group in the society as they face various types of barriers namely physical barrier, attitudinal barrier, communication barrier, policy barrier and so on. The government has started taking up various initiative to address such barriers to bring them in mainstream community, he said.
Noting that the present generation has become age of information with the advancement of information technology, he expressed sadness that visually impaired persons, however, are still facing information barrier due to lack of accessibility. To fill the gap, the department has identified 52 official government websites to convert it as visually impaired friendly websites, he stated adding that the department has also planned to make available all policies and welfare schemes taken up by central and state government in braille script.
"Barriers are major hindrances confronting the differently abled persons in accessing the services, privileges and opportunities which normal being enjoyed. It is high time to remove such barrier as they are also human being and have equal rights like normal person. Apart from this, removal of barrier will also help to expose their hidden talents," the director stressed.
Uttam also appealed to people of the state to show respect to differently abled persons instead of treating them with sympathy. The role of every citizen is very important to make them feel as a normal being and bring them into the mainstream society, he added.
HD Foundation secretary general Sapam Jasowanta, in his keynote address, said that the foundation has been organising the said campaign since 2008 every year with an objective to create an environment which is accessible and free from any kind of restriction in any sphere or places like public places, educational institutions, public or private offices among others.
"An inclusive development is possible in a society only when each and every person received equal privilege, enjoy equal rights and have equal participation," Jasowanta said.
He also appreciated the social welfare department for identifying around 52 official government websites and 50 buildings to make it differently abled accessible.
 
First Published:
Oct. 17, 2020, 7:11 p.m.