Doctor, staff nurse and family members test positive for Coronavirus in Manipur's Tamenglong
A total of 19 people tested positive for Covid-19 in Tamenglong on Friday.
---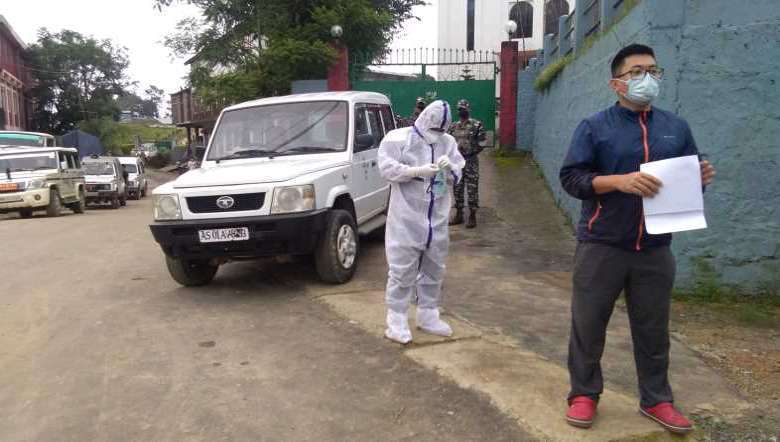 (Representational Image-IFP)
---
A doctor, staff nurse and their families were tested positive for Coronavirus among the 19 new cases in Tamenglong district on Friday. Following it, the general OPD of the Tamenglong District Hospital has been shut and all hospital staff and health workers at CMO's Office has been asked to undergo test for COVID at the hospital TrueNat Lab.
"With the detection of COVID-19 in a specialist doctor, staff nurse and their families yesterday, I request the hospital staff and other health workers at CMO's Office to undergo test for COVID at the TrueNat Lab from 10.00 am onwards. Those who have undergone COVID test seven days ago need not come for test today," Tamenglong CMO Dr Chambo Gonmei said.
Of the total 596 Covid-19 confirmed cases in the district, 13 frontline health workers of the Tamenglong District Hospital have been affected till date, according to the official data.
Meanwhile, the death toll in the district rose to three as one more succumbed to the disease on Thursday night at JNIMS, Imphal. The body was brought back to Tamenglong and the last rite was performed on Friday morning. All shops and markets were closed till 12 noon by Traders Association Tamenglong at district headquarter as a mark of respect to all the person who succumbed to COVID-19.
The CMO, however, appealed to the public not to fear or panic but to maintain COVID-19 SOPs strictly to contain the spread of the disease.
"I appeal to all the health workers not to fear or panic about the present situation but we all need to maintain the SOPs laid down by the government and take extra precautions to prevent the spread of COVID-19. We need to educate and give awareness to our family members, friends and colleagues," he said.
While the general OPD remained closed, the Isolation Ward, Flu Clinic, hospital diet section, Lab, normal delivery, emergency / casualty will remain open, the CMO said.
"We all have been exposed to this disease since the start of the pandemic spread in our district. So let us all learn to live a disciplined live with dignity at home and in our work places. With this positive attitude we can help contain the disease," he added.
Tamenglong has been witnessing rapid surge and widespread number of Covid-19 positive cases since the past several weeks. So far, the total COVID-19 positive cases have surged to 596, while 481 have recovered and 112 are active cases.
In view of the alarming Covid-19 situation, the district administration has ordered containment zones in several places in the district HQ. Following the declaration of containment zones, Tamenglong medical colony to Tamenglong bazaar and district Council junction wore a deserted look on Saturday.
Taking precaution and preventive measures, all shops and markets in the town area remained closed on Saturday.
Pretty Lamb Institute, Tamenglong has also issued suspension of class nine and ten consultative classes till further notice. 
First Published:
Oct. 17, 2020, 10:36 a.m.