Teachers must not take up contract works: Education Minister Rajen
The Manipur Education Minister carried out an inspection tour of different schools and colleges located at different places of Bishnupur district on Friday.
---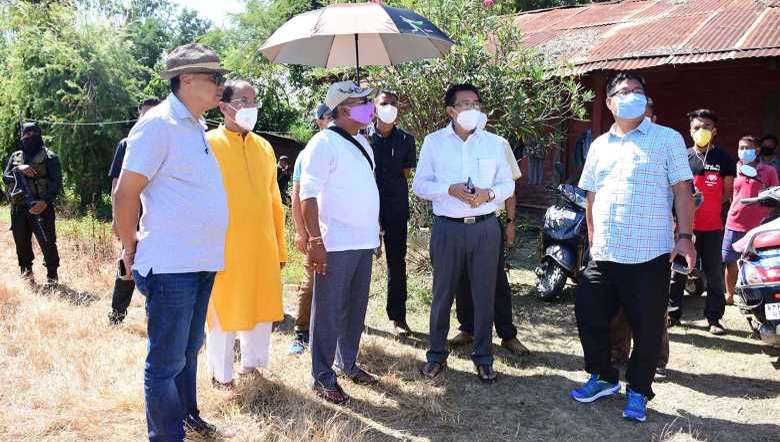 Manipur Education, Fishery and CADA Minister S Rajen has instructed head of institutions and teachers in government schools and colleges against taking up contract works, saying it will spoil the sanctity of the valuable service of the noble profession.
Rajen was speaking to the media during an inspection tour of different schools and colleges located at different places of Bishnupur district on Friday. Urhing proper maintenance of the schools and colleges, he said good looking buildings and infrastructures are necessary for attracting students.
"There may be problems in government schools and colleges regarding inability to set up the necessary infrastructures due to the shortage of fund from the concerned department. Nevertheless, the officials of the education department have been instructed to prepare DPR and submit to the ministry for sanctioning enough fund with the view to improve the present Government schools and colleges," the minister said.
The budget available in the department will be utilised for renovation and construction for highly necessary structures according to priority, he added.
Rajen further explained that there are two main reasons behind the diminishing government schools and colleges. First one is the negligence of duty by the head of institutions and teachers. The concerned head administrator is responsible for overall development of the institute. The second reason is that there is lack of attention from the concerned department regarding setting up of proper infrastructures in the institute, he stated.
The minister was accompanied by Chairman, Manipur Pollution Control Board, MLA L Radhakishore while visiting Thambalmarik College, Oinam Govt High School, Oinam, and government maintained Fish Farm, Toubul.
Later, he visited C.I. College, Bishnupur, Mangolnganbi College, Ningthoukhong, Ningthoukhong Higher Secondary School, Ningthoukhong High School along with MLA of Ningthoukhong AC, K Gvindas.
Rajen also visited Moirang Multipurpose Higher Secondary School. MLA of Moirang AC P Saratchandra was also present during the visit.
Later, the minister visited Kumbi College where he was felicitated by the teaching and non teaching staff. He also visited Borayangbi Government Upper Primary School.
The ministerial team includes Ex-Minster N Mangi, social worker M. Ashnikumar, Commissioner, Higher and Technical Education, M Harekrishna; Chief Engineer Education Engineering Wing, Kh Sarat; SC, Executive Engineer, AE of the wing and other officials.
First Published:
Oct. 17, 2020, 8:28 a.m.