How engaging in passion is helping youths rediscover themselves and beat Covid fear in Tamenglong
Young boys and girls in Tamenglong district of Manipur are containing the fear of Covid and rediscovering themselves by engaging in things they love to do.
---
By
Vipamei |
Updated on:
Oct. 17, 2020, 11:08 a.m.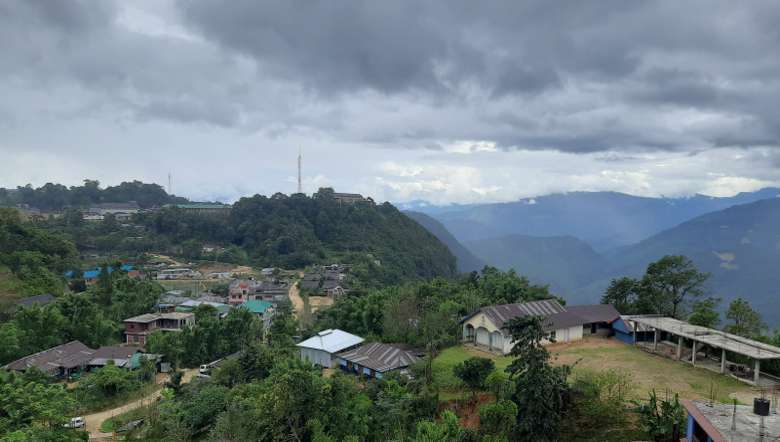 Tamenglong HQ, Manipur (Photo: Guihiamliu Riamei/IFP)
---
The country witnessed mass exodus of people from big cities to small towns or villages when Coronavirus hit India and lockdown was enforced. The fear of Coronavirus made thousands quit the city lights, leave their studies, jobs and dreams and drove them to their home states and native places. But the homecoming has given the young people of Northeast India an opportunity to discover and rediscover themselves, their latent skills and talents and most importantly their roots. And, young boys and girls in Tamenglong district of Manipur are containing the fear of Covid by engaging in things they love to do.
Spending quality time with their loved ones and home folks and indulging in their passion such as photography, painting, writing and playing music among others has helped many people not only to rediscover themselves but also contain the fear of COVID-19. Their stories of rediscovering themselves convey the message that fear can be contained by engaging oneself in healthy activities.
When asked how they are spending their days during this Covid time with no classes and jobs in hand, most of the young boys and girls in Tamenglong gave a similar answer – music or art.
One Lungkun, lead guitarist of Project Xenogenesis says: "I wish to give online music class but poor Internet connectivity and erratic power supply have made it difficult. But my days became better as I started a recording project, which album will be released before 2020 winter".
The members of Project xenogenesis say the project is a collaboration of musicians - Blindfold, the Confesssy (Delhi based band and winner of Bhagat Singh Battle band inter college 2016, and Novice Festival,2014) and Flying papers (a reputed rock and roll cover band from Tamenglong, winner of BETHEL beat contest).
"The project was started three months ago with the objective to bring a positive vibe of music in the society, to remove stigma and to promote or provide a stage for budding talents. It includes offering a jamming room for any artist to drop by and experience music. It also provides tips and guidelines for any willing person," they say.
The project members were working as music teachers outside the states. So they decided to help out the coming generations through music. They have a lot of activities in the bucket list, they say, adding, "If everyone makes proper use of the time, it can be helped to bring out one's hidden talent. Also, taking precautions and proper care of health is a must during this Covid time".
While coping with the changes, many turned their hobbies into real work.
A young student Eleibe from Tamenglong Bazaar area says: "I ended up joining an online singing competition organised by various YouTuber. This helps me a lot to cope with the stress of having to remain indoors during this Covid time, and many of my peers are into music these days. I'm recording a single with a friend at a studio in town".
Some dabble in fashion business and resale. 
One Ajiuna from Council Colony says her sister owns a clothes shop, but because of restrictions on some shops, business can't be conducted in full swing, like before. She has been doing a small-scale resale business of clothing for girls and other fashion accessories, and she is earning good from it, she says.
Others take to gardening, poultry farming, masonry, etc.
One Gaidunlung from Namlalong runs a poultry farm. "All the chicken and the duckling are bought from resellers at higher rate but it's worth it, for the rate of meat is high and the demand is high," he says.
One Ngamsin from Apollo, a teacher by profession, says the education system has been hit hard as teaching methods are being shifted from traditional to E-learning. It directly affects the life of a private school teacher. It's frustrating as besides the poor network connectivity, not all students can afford a cellphone. To beat the anxiety and stress, he started painting.
Most of the youths, who were employed in the private sector, were in disorganised situations on returning home.  But indulging in their hobbies and activities of their interest has helped them in their personal and mental growth and financially as well.
There are downsides of the stories. Non-availability of work material often leads to the condition of DIY stuff.
However, unbeaten, many young people are utilizing their time by going digital. They are turning to online competitions such as photography challenges, singing, art, gardening and other competitions.
The youngsters are happy with what they are getting to do. The change of life in the Covid situation has given the young people room to grow and scope for their ideas to take shape in many fields which will in turn do good to the individual as well as the family and community.
First Published:
Oct. 16, 2020, 7:03 p.m.