India's first transgender team celebrate Football People Week with exhibition match
The transgender team exhibition match was held in Imphal on Sunday
---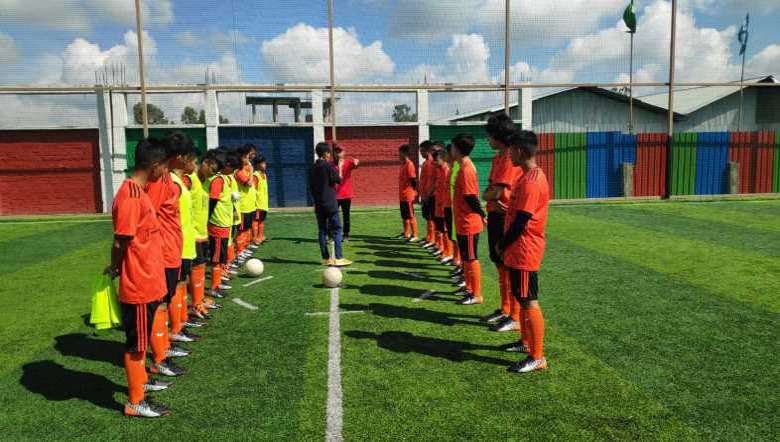 In an effort to promote transgender in the sports platform, a one-day 'exhibition match of India's first transgender football team' was conducted at RT football turf, Changangei, Imphal West district on Sunday.
The exhibition match was played by the Indian Transgender football team comprising 19 players as seven-a-side game. The match was organised by 'Yaall' which is a youth-based organisation inclusive of transgender community under the aegis of 'Fare Network' as a part of 'Football people week'.
This year, the Football people week will be held from October 8 to 22. 'Football people week' is a movement to stop discrimination against racism, disabilities and homophobia.
Speaking exclusively to the Imphal Free Press, founder of Yaall, Sadam Hanjabam said Manipur is known to the world for its uniqueness in sports. Though the state is famous as a sports hub, no support is found from the locals for the transgender, though some supports are met from outside Manipur.
He said, "The 'football people week' is celebrated in over 50 countries and for India, it is celebrated with the one-day exhibition football match played by 19 transmen national football players. All the players are under 30 years of age.
"In most of the countries, players are discriminated on racism, homophobia and for Manipur there is a sports platform for person with disabilities. There are many good players in the transgender community but no locals have come forward to promote the community. By taking advantage of the week, the exhibition match is being organised," he added.
The transmen football team is providing training by an international football player who is also a transmen for the time being without taking any charges but a certified football coach will be hired at the earliest so that the team could take part in the international level tournament, said Sadam.
He appealed to the government and authority concerned to look into the matter as no assistance has been met recieved since March when the first transgender football team was formed. If assistance is met from the authority concerned then Manipur could be a complete sports hub regardless of caste, creed, gender and people with disabilities, Sadam added.
First Published:
Oct. 12, 2020, 10:26 a.m.