TRAU FC to begin its Hero I-League 2020-21 training
The management of the club distributed training kits to the players at a simple gathering held at Tiddim Ground Sunday.
---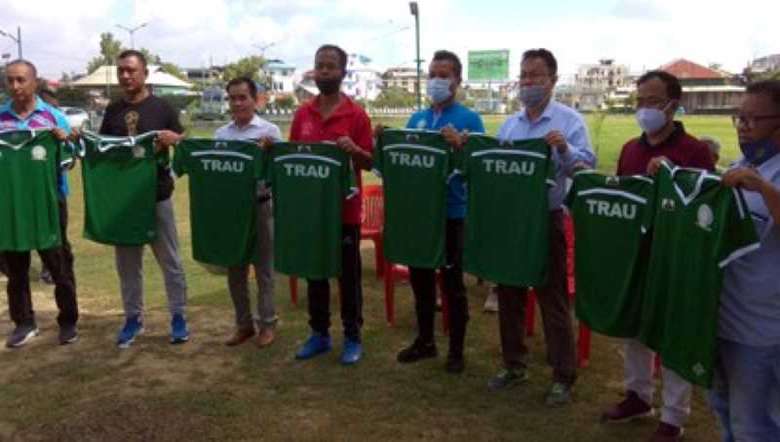 TRAU FC will start their pre season training session following strict obervation of Standard Operating Procedure (SOP) for Hero I-League 2020-21 at Khuman Lampak Main Stadium from Monday.
Ahead of the training stint, management of the club distributed training kits to the players at a simple gathering held at Tiddim Ground Sunday.
However, the irony is that there will be no home match for any of the Hero I-League teams due to Covid 19 pandemic and observing SOP laid down by the government. The neutral venue will be at Kolkata.
TRAU FC maintained a balanced team including with the signing of former East Bengal and CFL player Bidyasagar Singh, former Delhi Dyanamos Setmitmangsoi. Talks are currently underway to inked contract with forward Komron Tursunov of Mohun Bagan. TRAU FC has retained Joseph Olaleye, the only foreigner in the team at the moment.
TRAU FC general secretary T.Phulen Meitei while talking to group of reporters said, "We have trimmed down the signing of foreign player, due to the prevailing situation of Covid 19 pandemic as visa formalities are quite tough due to Government of India directive. Some of the foreign Embassy are yet to open its visa facilities".
But, this is blessing in disguise as many of the local youngsters will have a chance to prove themselves and we tend to developed local talent as much we can this season, said Phulen. In fact, TRAU FC along with Neroca FC and Aizawl FC have come to an understanding to developed local youngsters in the big league with lesser intake of overseas players, he added.
T. Phulen said that all players have their preliminary test done on Covid 19 and all proved to be negative. We will check players every fortnight as there is a strong directive from the AIFF that every players need to get clearance certificate before joining camp. In case thirteen players are found to be free from Covid 19 symtoms, play is still possible but in case the number falls down to eleven, walkover will be given to the other team.
T.Phulen Meitei added that once the team report at the venue for Hero I-League, the players will put under bio bubble facility, that is no contact with outsiders. It is learnt that teams will be put up at Hyat Regency Hotel, Kolkata.
He divulged that the state government has decided to provide Rs 50 lakhs each to I-League teams from the state, starting from last year. KRYPSA who featured in the Indian Women League will be avail the same amount. TRAU FC made their Hero I-League debut from last season.
As there will be no home matches for the team, the income flow will be hit hard. In the last season derby between TRAU FC and Neroca FC, we could earn a revenue of Rs 8 lakhs. There is also dearth of sponsers due to Covid 19 as no spectators will be allowed inside the stadium, so sponsers are reluctant this time, Phulen Meitei winds off.
First Published:
Oct. 12, 2020, 7:17 a.m.