Wildlife members spread awareness as Amur Falcons return to Tamenglong
The locals have spotted the arrival of a few since Saturday, while the radio tagged "Chiulon" Amur Falcon has reached near Xuzhou city and "Irang" near Linyi city of China as on October 7, according to the Wildlife Institute of India.
---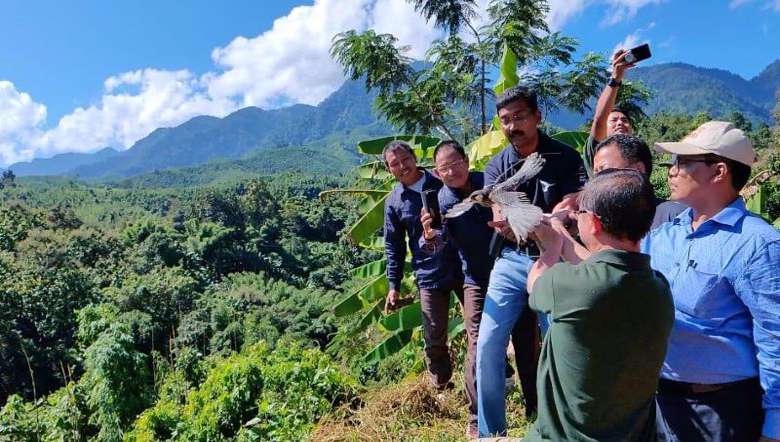 (File photo)
---
​Come October and Amur Falcons, locally known as 'Akhoipuina', start to dot the Tamenglong sky. Every year, the small Falco amurensis​ ​of the falcon family, come to spend the fall in Tamenglong, Manipur. The locals have spotted the arrival of a few since Saturday, while the radio tagged "Chiulon" Amur Falcon have reached near Xuzhou city and "Irang" near Linyi city of China as on October 7, according to the Wildlife Institute of India. As the people in Tamenglong welcome their return which portends good harvest, according to the traditional belief, environmentalists spread awareness to protect the migratory bird, which visits the region in lakhs every winter.
Five Amur Falcons tagged with GPS, including Irang a​​nd Chiulon​,​ will be arriving in Tamenglong in the coming week, Tamenglong wildlife warden and Tamenglong Cane and Bamboo Centre (TAMBAC) director Nehemiah Panmei said on the World Migratory Bird Day celebration at Chiuluan on Sunday.
"Today, on the World Migratory Bird Day, let us spread awareness on the importance of protecting birds for the preservation of forests and all forms of life on our planet earth," he said.
Urging all to welcome the falcons as they return to Tamenglong this winter, Tamenglong Wildlife Warden Dr Chambo Gonmei, who is also CMO, Tamenglong district hospital, told the Imphal Free Press, "Tamenglong is the home of 'Akhoipuina'. Let us give them a warm welcome. Let them roost, let them dance and hover in the sky and protect our paddy fields and crops for a good harvest… Probably​,​ they will return with their little ones or bring with them new friends to feed on harmful insects and pests in the rainforest of the region and quench their thirst with the Barak or Irang river water".
Fervently appealing to the people of Tamenglong and Noney districts not to kill these beautiful migratory birds 'Akhoipuina', Dr Chambo said, "After a good winter in Tamenglong, they will go back to various countries across the ocean and seas in South India, then fly over to Africa and meet their loved ones in Siberia, Northern China and Mongolia… Protect them from all sorts of traps and guns".
In the effort to protect the Amur falcons, the District Administration Tamenglong has banned the use of air-guns during the visit of 'Akhoipuina'. And, for the past several years, Rainforest Club Tamenglong in collaboration with the Tamenglong Forest Division had been spreading awareness to the public and urging them to refrain from killing 'Akhoipuina'.
"It is the responsibility of every citizens of the district to protect and preserve these wonderful species as in the days of our forefathers who used to welcome and glorify God for the migratory birds during the harvest time, as they fill their barns," Dr Chambo added.
District Forest Officer Tamenglong Kh Hitler, speaking to the Imphal Free Press, said that Amur falcons are the longest distance migratory birds that breed in eastern Russia and East China. "They come in lakhs during October and November every year in Manipur's Tamenglong district and adjoining Northeast states," he said.
"They are to be protected as India is a signatory country of convention migratory species. Amur really helps in biological control of several harmful insects, locusts, termites, etc. which are harmful to agricultural crops," he said.
Urging the people to protect Amur falcons, Hitler said, "The Schedule IV of Wildlife Protection Act 1972 states that hunting and trade in wildlife products of species included in schedule I to schedule IV are strictly prohibited and punishable with imprisonment and fine of varying degrees".
Meanwhile, on the arrival of the first batch of Amur Falcons in Tamenglong district, Forest Division Tamenglong in collaboration with Rainforest Club and Chiuluan village authority celebrated the World Migratory Bird Day at Chiuluan Baptist Church complex. Nehemiah Panmei attended as chief guest. Tamenglong ADC Member Poukinlung Gangmei, Chiuluan village authority Chairman Keiramsinang Gangmei, Chiuluan Baptist Church Pastor Rev Chingliang, and district forest Tamenglong Range Officer Promeshwor Singh attended and shared the dais.
Panmei urged people in Chiuluan village not to shoot down the falcons and other migratory birds, but welcome them and allow the tagged birds to fly back safely. He expressed the need to save and protect all flora and fauna in the district and lauded the villagers for protecting the migratory birds.
District Forest Division Tamenglong Ranger Officer Promeshwor Singh also spoke on the occasion and said that after thorough study about Amur Falcon, experts emphasized human's dependency on migratory birds to help control pests and spread plant pollination.
First Published:
Oct. 11, 2020, 9:51 p.m.