Mental health problem cases increasing amid Covid-19 pandemic: Dr Rajo
The Manipur Health Service director said land has been procured for setting up a mental health hospital in Manipur and construction will begin soon.work
---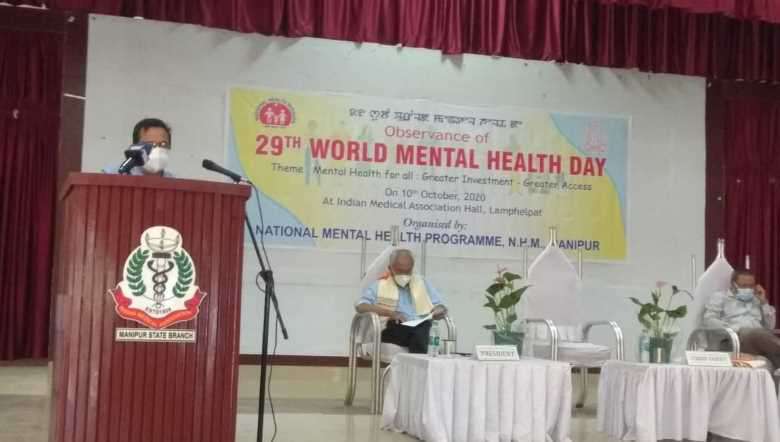 Manipur Health Service director Dr K Rajo Singh speaking on World Mental Health Day
---
Land has been procured for setting up a mental hospital in Manipur and the construction will begin at the earliest, state Health Service director Dr K Rajo Singh said on the occasion of the World Mental Health Day 2020 observation under the theme 'Mental Health for All: Greater Investment-Greater Access' at Indian Medical Association, Lamphelpat, Imphal on Saturday.
Speaking as chief guest of the function, Dr Rajo said that people can easily avoid COVID-19 infection by following proper SOPs issued by the government but mental health problems are more dangerous than the virus and it is very common. There are different types of mental health problems which include depression, anxiety, dementia and many more, he added.
He continued that though the world mental health day is observed every year on October 10, the observation has become much necessary now as the country is facing more mental health problems during the pandemic. People with no history of mental health issues in the past have started experiencing mental health problems during the pandemic at an increasing rate, said Dr Rajo.
Additional director (MC) of Health Services, Manipur, Dr P Shyamsunder Singh and additional director (MD) of Health Services, Manipur, Dr Khoirom Shasheekumar attended the function as president and guest of honour respectively.
 
First Published:
Oct. 11, 2020, 9:41 a.m.