World Mental Health Day 2020: Prevalence in Manipur higher than national levels
In Manipur, as per the findings of the National Mental health Survey 2015-16, the weighted prevalence of mental illness for lifetime and current experiences were 19.9% and 13.9% respectively.
---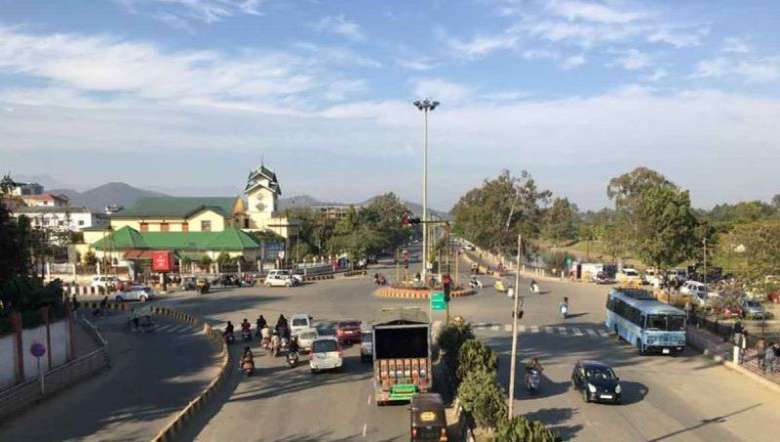 Imphal, Manipur (PHOTO: IFP)
---
The World Mental Health Day, initiated by the World Federation for Mental Health in 1992, is observed on 10 October every year to push for global mental health education, awareness and advocacy against social stigma with the objective of raising awareness of mental health issues around the world and mobilizing efforts in support of mental health. The Day provides an opportunity for all stakeholders working on mental health issues to talk about their work, and what more needs to be done to make mental healthcare a reality for people worldwide.
About 450 million people live with mental disorders that are among the leading causes of ill-health and disability worldwide (WHO's World Health Report, 2001). One person in every four will be affected by a mental disorder at some stage of their lives while mental, neurological and substance use disorders exact a high toll on health outcomes, accounting for 13% of the total global burden of disease (WHO, 2012). The World Health Organization (2018) states that every 40 seconds someone dies by suicide. Annually, this represents over 800 000 people that die by suicide, which is more than people dying by war and homicide put together. For every suicide, there are many more people who attempt suicide every year. A prior suicide attempt is the single most important risk factor for suicide in the general population. Suicide is the second leading cause of death among 15 to 29-year-olds while 79% of global suicides occur in low- and middle-income countries (LMIC). Every suicide is a tragedy that affects families, communities and entire countries and has long-lasting and devastating effects on the people left behind.
A Relook at the Manipur situation
In Manipur, as per the findings of the National Mental health Survey 2015-16, the weighted prevalence of mental illness for lifetime and current experiences were 19.9% and 13.9% respectively. Prevalence was higher than the national levels. The overall weighted prevalence of any substance use disorder (current use) was 23.7%, with tobacco use disorder contributing to 20.6%. The prevalence of alcohol use disorder was 5.0% and that for other drugs was 0.8%. A lifetime prevalence of 2.4% was observed for schizophrenia and other psychotic disorder, 9.4% for mood disorder (0.4% for bipolar disorders, 9.1% for depressive disorders), 6.3% for neurotic and stress disorders. Further in the survey 1.1 % of the population was found to be having intellectual disability and 0.35 % of the population were positive for GTCS specific epilepsy.
Suicide is one of the 10 major causes of death in India. According to National Crime Bureau (2014) incidence rate of suicide was 11 per lakh population and in Manipur, the incident of suicide was 2 per lakh population.  In the last two years, 2018-19 and 2019-20, a total of 106 suicide incidents were registered in Manipur as per the available Police records.
In spite of the modern treatment facilities available, stigma and discrimination towards mental illness is still manifold. Many people are unable to overcome this barrier and approach for treatment. On the other hand, many people still prefer to approach traditional healers, quacks, thus delaying the gap between onset of illness and the initiation of treatment which seriously hampers the treatment prognosis and quality of life of the patient. Some other reasons could be lack of family support, financial problems, inaccessible nearby treatment facilities, lack of proper mental health institutions, and lack of awareness. All these factors contribute to a large treatment gap (86%) for mental health disorders in our state. We need to close this gap by joining hands and investing in mental health. 
National health mission in Manipur 
National Mental Health Program, National Health Mission Manipur has opened District mental health programme centres in all the 16 districts of Manipur with an aim to integrate mental health services into general health care services. Various IEC activities to raise awareness on mental health and to break stigma and discrimination are ongoing whole throughout the year and more intensely during the month of September and October every year. Capacity buildings of  More than 349 Medical Officers and 482 nurses and paramedicals posted at various primary health care set ups have been conducted  on mental health care since 2018  and many more training such as stress management, suicide prevention and life skills trainings were imparted. Provision of selected psychotropic medications has been made available at the health centers through National Mental health program and Free Drug Initiative Program of NHM. Various targeted intervention programs were conducted at schools, colleges and community level. Home visits for severely ill patients with the help of local ASHAs, CHOs and Special mobile mental health camps conducted. State COVID-19 Psychological support activities during the current pandemic are spearheaded by the National Mental program Manipur along with its various stakeholders. As of 8th October 2020, 22, 673 counseling sessions have been conducted.
Although important steps have been initiated under the Health Department and National Mental Health Program, National Health Mission  Manipur, there are still  gaps that needs to be closed and we still need to go miles ahead for making mental health accessible for all and everyone in the state. We should join hands and understand the impact of mental health disorders as it doesn't affect the individual but it affects the whole family and it is high time that we invest more in mental health.
World Mental Health Day 2020 amid COVID-19 Pandemic 
This year's World Mental Health Day, on 10 October, comes at a time when our daily lives have changed considerably as a result of the COVID-19 pandemic. The past months have brought many challenges: for health-care workers, providing care in difficult circumstances, going to work fearful of bringing COVID-19 home with them; for students, adapting to taking classes from home, with little contact with teachers and friends, and anxious about their futures; for workers whose livelihoods are threatened; for the vast number of people caught in poverty or in fragile humanitarian settings with extremely limited protection from COVID-19; and for people with mental health conditions, many experiencing even greater social isolation than before. And this is to say nothing of managing the grief of losing a loved one, sometimes without being able to say goodbye. The economic consequences of the pandemic are already being felt, as companies let staff go in an effort to save their businesses, or indeed shut down completely.
Given the past experience of emergencies, it is expected that the need for mental health and psychosocial support will substantially increase in the coming months and years. Investment in mental health programme at the national and international levels, which have already suffered from years of chronic underfunding, is now more important than it has ever been. This is why the theme "MENTAL HEALTH FOR ALL: GREATER INVESTMENT: GREATER ACCESS" is most timely for World Mental Health Day 2020. (Courtesy: WFMH brochure, WHO report, NMHS 2015-16 report, Wikipedia)
 (The views expressed are the writer's own)
First Published:
Oct. 10, 2020, 8:42 a.m.