Manipur sanitation workers heave sigh of relief with three months' salaries, hope for remaining
IFP IMPACT: In July, Imphal Free Press interacted with some of the sanitation workers and sweepers working under the Imphal Municipal Council every day, to find out about their non-payment of salaries since April.
---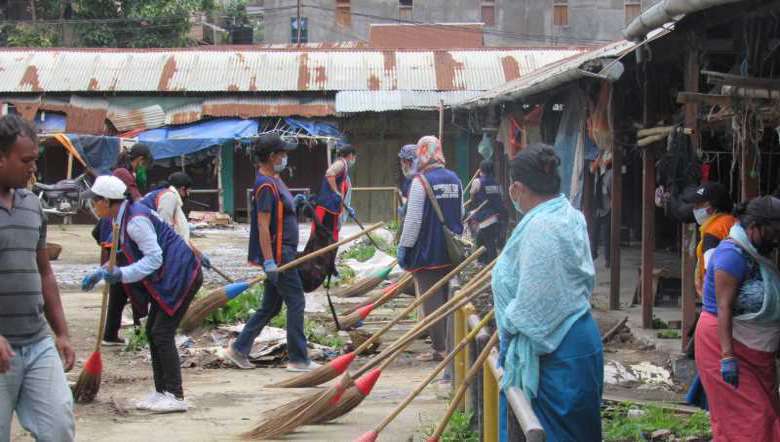 (File photo: IFP)
---
Money, perhaps, cannot buy happiness but at workplaces, timely disbursement of monthly salary or daily wages is one of the key factors to make happy the workers. Earlier this July, when the Imphal Free Press interacted with some of the sanitation workers and sweepers working under the Imphal Municipal Council every day, to find out about their non-payment of salaries since April, they expressed dismay over the government's inaction.
Read - Sanitation workers, sweepers serve public as unsung heroes amid COVID-19 despite non-payment
Now, many of the workers heave a sigh of relief after getting three months' salaries. Although the government has cleared three months' pending salaries in the last week of September, the workers expressed their desire for disbursement of the pending salaries for the remaining three months as early as possible.
When the Imphal Free Press interacted with Thoibi (name changed), one of the sweepers from Tera Loukrakpam Leikai, she said, "Those were such tough days to survive. We got no salary during the COVID-19 lockdown period. But I had to manage to run my family. I might not have suffered this much even though I did not get the salary if there was no lockdown. After getting the salary, now I feel relieved but also I felt that we would have been happier if the government had given the salary in time every month". Thoibi has been working as a sweeper since 2013.
Thoibi, a widow in her 40s and mother of two children, said that salary for sanitation workers and sweepers are too meagre as such there is no possibility of saving even a small amount of earning. Besides this, most of the people who are into sanitation service are one of the most under-privileged and economically deprived people. Therefore, it is not rightful to delay their salary disbursement for many months.
Another woman from Keishampat said that it was a mixed feeling to get the salary as salaries for only three months have been disbursed after waiting for six months. She said that her monthly salary is too small in amount that everything finishes off after she clears the money she borrowed from known people to survive.
"In the effort to run a family for such a long period without salary, I was compelled to borrow money from my near and dear ones. I also started buying things on credit basis. So as of now, nothing is left after clearing all the dues. We will be much happier only when the government gives out the remaining three months' salary at the earliest," she said.
One of the members of the Committee of Imphal Municipal Corporation Solid Waste Management (CISM), Waikhom Ananda Meitei said that salaries for the sanitation workers and sweepers were pending since April but the government had disbursed only for the first three months on September 25.  The committee had submitted the bill for the remaining months and they are expecting that the remaining salaries will be given before 'Ningol Chakouba' (one of the Manipuri Festival in the winter months).
Ananda, who is also the president of Workers' Union Manipur (WUM), one of the NGOs working for sanitation and sweeping activities, continued that timely disbursement of salary is one of the important factor that motivates the workers to perform their duties with dedication and sincerity. Even without getting the salaries, they delivered their service as 'unsung heroes' by taking risks during COVID-19 pandemic, he added.
Most of the time, sanitation workers and sweepers do not get their salaries in time. At least for them, the Manipur government should address the problem, as small salary jobs are mainly picked by economically downtrodden people, Ananda added.
First Published:
Oct. 8, 2020, 11:47 a.m.