Trauma only an ounce of sufferings conflict widows face in Manipur
There are around 400 conflict widows registered under EEVFAM and the biggest financial problem faced by them is in providing education to their children, the widows said in an interaction with the IFP.
---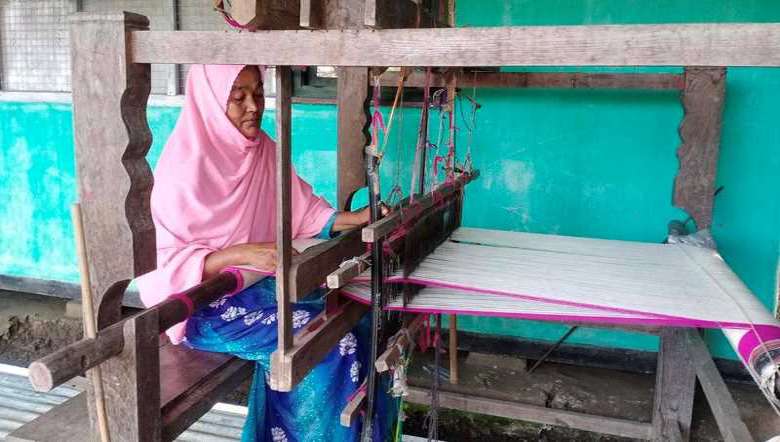 A conflict widow in Manipur (Photo: IFP)
---
Most of the conflict widows in Manipur are suffering from trauma, financial struggles in sending their children for education and many young conflict widows are fighting for their rights to inheritance, land and property.
According to the records of Extra Judicial Execution Victim Families Association, Manipur (EEVFAM), there are around 400 conflict widows registered under EEVFAM. Their husbands were allegedly killed by the armed forces of the union and the state police between 1980 and 2009 in fake encounters.
"The initial period of widowhood is where the women suffer the most. They have to alter to a new lifestyle for survival ahead of the trauma and depression that sets in for the unexpected loss of their loved ones," said president of EEVFAM Renu Takhellambam while speaking exclusively to the Imphal Free Press.
Renu, who also lost her husband in an alleged fake encounter case in 2007 said, "Me and my son always feel incomplete even though we get support from my family members."
The families of the victims of extra judicial killings are not willing to give up and are living with hope that justice will be delivered one day, Renu said.
The EEVFAM president also told the IFP that only a few families give the rights to land and properties to the conflict widows and most of them are living with trauma.
However, most of the young conflict widows have to fight legally in the court for their rights to assets and properties of their late husbands, she added.
Asserting that all the widows wanted their children to be well educated with the hope of paving a better future for their children, Renu said that the biggest financial problem faced by conflict widows is in providing education to their children.
She said that due to lack of awareness, many widows are not availing the benefits of the government schemes and scholarships introduced for the widows and their children respectively.
A young conflict widow who does not want to reveal her identity, told the IFP that she and her small daughter were living in her parental home after her husband was allegedly killed by police commando.
"After the death of my husband, his family members did not even give a part of the land and properties on the ground that I do not have a son and giving land property is unnecessary," she said.
"As a result, I took the matter before the court and after fighting cases for two years, I got my rightful property," she added.
Saying that many young widows are facing similar cases like her, she maintained that only a few numbers of young widows receive support from their in-laws.
A half-widow, Mina Khatun, whose husband went missing since 1999 after allegedly apprehended by Assam Rifles, has been suffering from trauma and mental issues since her husband went missing.
The trauma has apparently taken a toll on her mental wellbeing and she refused to recall the case of her husband.
As told by her, remembering the incident worsens her mental illness and raised her blood pressure. 
Left alone with three sons and three daughters by her missing husband, she felt helpless as the only source of income of their family was the salary of her husband who was working as a salesman, she said.
Since her husband went missing, Mina started selling vegetables and her three sons started working as labourers and the eldest daughter started embroidery works. Only her second daughter continued her education and the rest dropped their schooling.
Currently, Mina is living with one of her sons, two daughters, daughter-in law and grandson as all her other children got married and are living in different houses. Her second daughter, Nazima alias Langlen was unable to further pursue her education after completing graduation.
She said that due to the lockdown imposed in view of COVID-19 pandemic, she has to stop selling vegetables, which is the source of daily bread for their families.
"In search of an alternate source of income, me and my daughter Langlen started weaving traditional clothes using the handloom (popularly known as 'Fisakon' in Manipur)," Mina added.
Due to lack of awareness of the various beneficiary schemes of the government, Mina and her family members are now getting the benefits of only widow pension, job card and ration card.
Holding on to the hope that her husband will return one day, she said they still have not perform the last rites of her husband.
The sufferings conflict widows go through in Manipur are multifold and this reporter was able to learn that some are resorting to drugs for relief from the trauma while some others are taking up prostitution in the fight or survival.
The government apparently has not seriously taken up rehabilitation measures and efforts to arrange alternate means of livelihood for them .
First Published:
Oct. 7, 2020, 4:06 p.m.