Updated Covid Advisory: How government failed to communicate with people
The September 17 order on updated Covid-19 advisory was not available in the government website and due to the turmoil for dropping and swearing in of ministers, people were not much aware about it
---
By
RK Nimai |
Updated on:
Oct. 7, 2020, 10:10 a.m.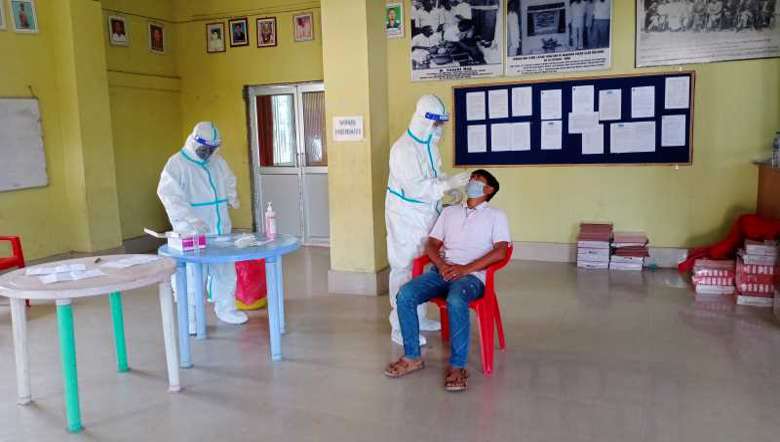 The Director of Health issued an Updated Advisory on Strategy for Covid-19 Testing in Manipur on September 17, 2020 and in Para C Testing in Covid Care Setting (Dedicated Covid Hospital/Health centre/CCC) it was indicated that Asymptomatic cases in CCC will be discharged without testing after 10 days of testing positive for SARS-CoV-2 subject to that the person can self-isolate for another seven days. For very mild pre-symptomatic cases admitted to CCC will be discharged after 10 days of symptom onset inclusive of three consecutive days without fever prior to discharge but he has to self-isolate and monitor his health for seven days.
In the case of moderate cases, patients whose symptoms resolves within three days and maintain oxygen saturation above 95 per cent for the next four days can be discharged after onset of symptoms if there is absence of fever without antipyretics, resolution of breathlessness and there is no oxygen requirement such patients can be released without testing provided he self-isolate and self-monitors his health for the next seven days. Only in severe cases including immune-compromised and co-morbid conditions will testing be conducted with RT-PCR before discharge. Those in home isolation also do not require retesting subject to similar conditions.
The September 17 order was not available in the government website and due to the turmoil for dropping and swearing in of ministers, people were not much aware about it. Only recently were objections to these orders coming from various localities with so much resistance that the discharge slips issued without negative results may lead to the patient not being allowed to enter the locality. 
On May 8, MHFW had issued a Revised Discharge Policy but was unaware to the majority of the people and it came to be known only when the Delhi Government adopted the policy on June 12. On the same day, this author accessed MHFW website and downloaded the Policy. It is not known why there is such a delay of four months in adopting the Revised Policy and why it was not issued separately but incorporated in the Testing Policy; the latter making the people unaware of it for nearly a fortnight? The State Government should come up with a clarification to dispel the concern of the people on the Revised Policy of Discharge with scientific reasons, which it had failed to do till date. 
There have been serious concerns that this was incorporated due to lack of sufficient testing kits, be it for RT-PCR, RAT or TruNAT with an ulterior motive. The Director of Health on 5th October admitted the shortage of RAT kits and requested for its judicious use and had dispelled the concern of its shortage that orders have been placed so that there will be no dearth of it. Reports have also been received that RT-PCR kits are not available with the VRDL, RIMS though some are still available with VRDL, JNIMS.  Too much reliance on RAT which has low sensitivity has its own danger to the society at large as many who are infected could escape detection leading to low positivity rate.
The Revised Discharge Policy of MHFW was based on science after review of the available literature and relies on symptoms rather than on testing and that there is no added risk of transmission from the earlier discharge policy based on test. It is based on the scientific reports that after the initial RT-PCR positive results, patients become negative after a median duration of 10 days and the viral load peaks in the pre-symptomatic period (2 days before symptoms) and goes down over the next 7 days. Even when testing is carried out on RT-PCR, a negative result does not mean that there is no SAR-Cov-2 in the body but only indicates that detectable quantity is not available and some may carry the virus which may later on reactivate. But such cases are rare and very far in between. The only conditions are after discharge, the patient should self-isolate and self-monitor his health for the next 7 days. 
It has been reported that in 97.5 per cent of those infected, the viral loads peaks from the 5th to the 11th days after infection and in such cases the transmission does not happen after that, except for a few odd cases and after 21 days of infection the chances of transmission is negligible. Thus if a person is tested positive, at least he was infected 5 days prior and with 10 days he will be having the infection for 15 days and with another 7 days in self-isolation, he will be having it for 22 days so the chance of transmission is almost nil.
However, the concern is the inability of the patient to abide by the advisory to self-isolate for another 7 days after discharge and the moment he is discharged, he acts as if he is free to roam around among the general public. In many countries, there was Geo-tagging and with the use of AI and GPS systems, it can be found out in real time whether a discharged person is following the advisory or not. But in Manipur, it seems a free for all with everyone as per his desire. One's responsibility to the society is conveniently ignored and that is the concern of the civil society and those who are volunteering to ensure that the spread of the transmission is contained. In some places people within the containment zone come out leading to tension in the locality.
The responsibility for ensuring that the advisories are followed cannot be left to the police alone, which is now fatigued and frustrated with many of them falling victim to the pandemic. Despite the assurance from a senior functionary of the State Government that strict enforcement of the advisories will be ensured, it will only be known when it is enforced at the ground. Manipur is not only Imphal; in most of the areas use of masks in public is still very very limited and even in Imphal, there are people who do not use masks properly. In local TV news one can see what was being mentioned; prospective candidates going around without mask seeking votes, or improper use of mask by covering only their chin or mouth, leaving out the nose which is the main route for infection. With the Unlock 2 in operation in Manipur and with the opening up of eateries, where one have to take out the mask, the chances of transmission become much higher. 
The Health Department ought to have issued separate guidelines for the Discharge Policy rather than incorporating it in the Testing Policy, with full scientific reasons and basis for the better understanding of the general public. Mixing it up with the others, obfuscate it and make the public feel that it was foisted on them with an ulterior motive, as there is a tendency to suspect Government's intent. There is also a suspicion that this revised protocol was put to practice much earlier before September 17 as in the early part of August in the daily Press Releases of the Covid-19 Control Room, say on August 8 it was mentioned as "In the past twenty four hours, 1 person was discharged from JNIMS(1) after finding COVID-19 free on RT-PCR test" and on 9th August the entry reads "In the past twenty four hours, 117 persons were discharged from CRPF(42), RIMS (2), JNIMS(2), CCCs of Meitram (33), Senapati (3), NIELIT Churachandpur (8), Thoubal (23) and RD Wing (4) after they were found COVID-19 free on RT-PCR test" but from 10th August onwards it was a cryptic entry which reads "In the past twenty four hours, 78 persons were discharged" and on similar lines..
Manipur is facing acute financial problems and any measures which provide the same benefit without incurring expenditure should not be objected to. However, the people must be convinced to adopt such a procedure by highlighting the scientific reasons and strict enforcement of the self-isolation for seven days. In this regard, the state government had failed to communicate with the people and the immediate need for the health department is to communicate successfully with the people, who are mostly not scientifically adept and must be explained in simple language and the mainstream media and social media must be used to pass on the message. In other activities our leaders use social media to the hilt but why not here?
First Published:
Oct. 7, 2020, 10:10 a.m.