Manipur Democratic Alliance urges ECI for by-polls in remaining ACs
With the political crisis in Manipur, 13 assembly seats of Manipur remain vacant.
---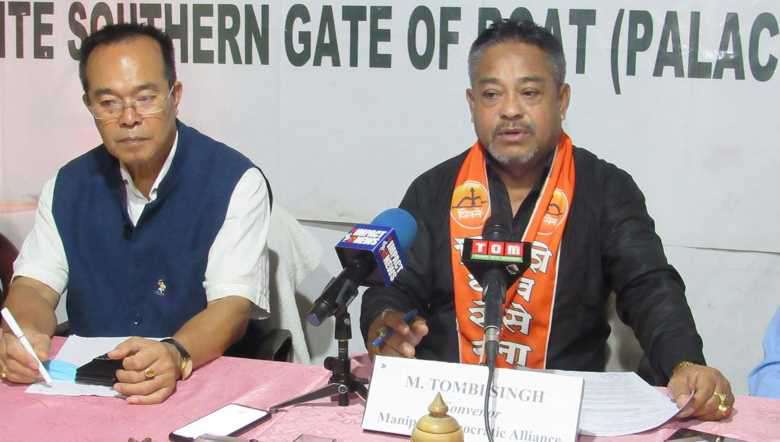 MDA Convenor M Tombi briefing mediapersons in Imphal on October 6, 2020
---
The Manipur Democratic Alliance (MDA) has urged Election Commission of India (ECI) to conduct by-elections for the remaining assembly constituencies with vacant MLA seats but do not have pending court cases.
MDA convenor, M Tombi said the same while speaking to the media held at its party office located at Babupara, Imphal on Tuesday.
With the political crisis in Manipur, 13 assembly seats of Man vacaipur were remainingnt. Out of 13, ECI had approved conducting by-polls for two assembly constituencies on November 7 and result to be declared on November 10, he said.
In order to save the democratic rights of people of the remaining assembly constituencies, MDA, which is formed by nine political parties including Bharatiya Janata Party (BJP) had submitted a memorandum on October 1 to state Chief Electoral Officer (CEO) and Governor of Manipur, he added.
The memorandum mentioned that citizens of the concerned assembly constituencies are bonafide voters of electing representatives and performing by-election only in two ACs is against the sentiments of the other ACs and is in violation of their democratic rights and constitutional remedies, Tombi noted.
While saying that by-polls for three another ACs have also been fixed on the same day, he said that MDA is grateful to the authority concerned for taking up necessary action in response of the memorandum.
He further appealed the authority concerned to include other remaining ACs that do not have pending court cases for the by-election to save the democratic rights of the citizens.
First Published:
Oct. 6, 2020, 10:34 p.m.