Book on Sagolsem Indramani's life, contributions released
The book titled 'Nungsiba Leinam' is a compilation of 20 poems and 22 prose written in Manipuri and one prose in English.
---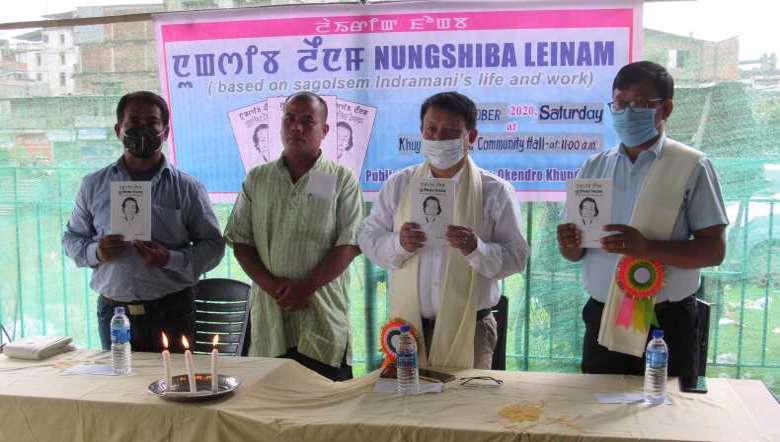 People need to follow the footsteps of late Sagolsem Indramani and should try to translate his ideas into action to honour his ideas and thoughts, MLA Kh Joykisan said on Saturday.
He was speaking during the release of a book titled 'Nungsiba Leinam' at Khuyathong Puja community hall, Imphal West.
The book is a compilation of 20 poems and 22 prose written in Manipuri and one prose in English. All the poems and prose are written based on life history and contributions of late Sagolsem Indramani. The book is published and edited by Okendro Khundongbam.
Joykishan, as chief guest of the function, said Indramani is one of the precious gems of Manipur who envisioned a better Manipur. 
"In addition to his knowledge of political theory, he was well versed on the usage of indigenous foods and its nutritive values for a healthy lifestyle," he recounted.
Joykisan expressed sadness that children of the 21st century are not intimate with physical activities as most of them are engaged with electronic devices which is becoming a factor of health issues. Whereas children of the past decades had a habit of playing outdoors and most of them do not have health issues. To ensure a better and healthy society, children and youths should spend at least one hour doing physical exercise, he added.
Eminent filmmaker, Makhonmani Mongshaba, stated that after reading the book, it is found out that Sagolsem Indramani had similar thinking with Hijam Irawat. 
 "Indramani had also suggested establishing a regional political party to bring changes," he said.
He also expressed his gratitude towards the publisher for publishing the book that contains many precious articles that could be useful for the youths and children.
Executive director, Forum for Promotion of Social Justice (FPSJ) of Arts and Politics, RK Bobychand also attended the function.
First Published:
Oct. 3, 2020, 9:53 p.m.