International Day for Older Persons observed at Churachandpur, Thoubal
Two bags of rice, five litres of cooking oil, a bag of dal, hand sanitizers, face masks and blankets were handed to 30 inmates of Themnu Aged Care Home
---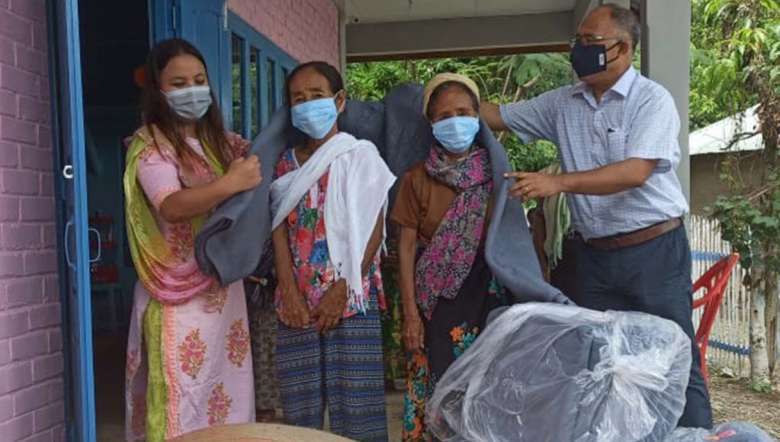 (PHOTO: IFP)
---
As a part of the observance of 'International Day for Older Persons', the social welfare department of Churachandpur led by its DSWO, N Bidon Singh  presented food items, blankets and other materials to the senior citizens staying at Themnu Aged Care Home located at Teddim Road, new  Mata village, Churachandpur.
The old aged home for older women was implemented by Social Human Action for Rural Empowerment (SHARE) under Ministry of Social Justice and Empowerment, Government of India.
The DSWO handed out two bags of rice, five litres of cooking oil, a bag of dal, hand sanitizers, face masks and blankets to 30 inmates of Themnu Aged Care Home in the presence of its staff led by Esther Vaiphei.
Bidon said that they could not organise a big function as there is restriction due to COVID-19 but had done their bid to help the old people as it is their day.
It may be mentioned that the 'International Day for Older Persons' was voted unanimously in the UN General Assembly on December 14, 1990 to be observed on October 1 each year. The first observance was on October 1, 1991 in which issues affecting the elderly persons were pointed such as senescence and abuse of elders, followed by discussion on contributions made by older people to the society.
Meanwhile, health supervisor of Primary Health Centre, Lilong, Wairokpam Hemabati Devi distributed face masks and blankets to the 25 old aged persons staying at the old aged home run by IRDO at Wangbal, Thoubàl district.
While handing out the materials, Hemabati said that the helpless elders need the assistance in whatever possible ways and therefore she has carried out the distribution of few materials as a part of the observance of International Day for Older Persons.
First Published:
Oct. 2, 2020, 9:55 a.m.