Hill districts MGNREGS employees stage protest rally, demands service regularisation
Police intervened and stopped the employees from proceeding further in front of Hotel Classic in Imphal.
---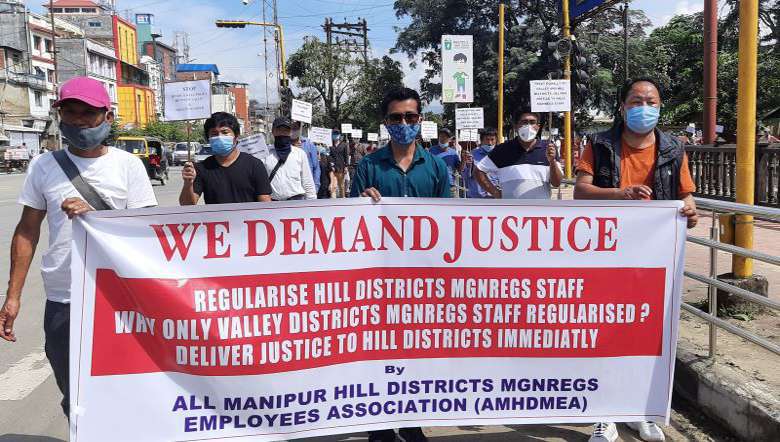 Demanding regularisation of their service in the same manner with their valley counterparts, the All Manipur Hill Districts MGNREGS Employees Association (AMHDMEA) took out a rally and marched towards bazar areas from North AOC, Imphal on Tuesday.
However, police intervened and stopped the employees from proceeding further in front of Hotel Classic.
Speaking to the media on the sidelines of the rally, president of AMHDMEA, Sholim Haokip warned that the association will continue different modes of agitations until the state government fulfilled their demands. He said that the MGNREGS works and development in the hill districts can be hampered if the state government do not fulfil the demands of the hill district MGNREGS employees.
In the year 2016, the state government had regularised MGNREGA employees in the valley districts but the employees of the hill districts, who were employed first, are still left out, lamented the president.
In Manipur, the scheme was first launched in hill districts and Tamenglong was the first district chosen for implementation of MGNREGS in the year 2006, he said.  
While noting that the association had submitted several memorandums to the state government, he contended that their demands fell into deaf ears till date.
In the month of August, the association had warned of launching democratic forms of agitation if the state government fail to regularise the MGNREGS employees of hill districts of Manipur on or before September 15.
The association submitted a representation to the secretary, Rural Development and Panchayati Raj on December 2, 2016, stating that most of the employees have surpassed the age limitation for any government services.
In a memorandum submitted by the association to the RD and PR in October, 2017, the association stated that they have submitted a representation to the chief minister on June 15, 2017 during "Miyamgi Numit" wherein the chief minister assured to consider the demands of the association.
The association had also submitted a memorandum to the chief minister in February 2019, demanding regularisation of the employees before the Lok Sabha election.
First Published:
Sept. 29, 2020, 11:55 p.m.