Churachandpur ATM Robbery: Body of Arambam Ranjan claimed by JAC
Arambam's body was taken out of the morgue 24 days after he was shot in the Churachandpur ATM robbery case.
---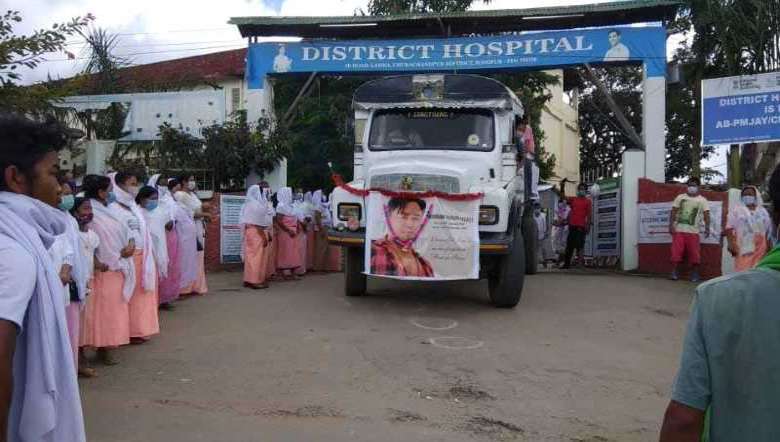 (PHOTO: IFP)
---
The body of Arambam Ranjan has been taken out of Churachandpur District Hospital morgue on Monday by the JAC formed against the brutal killing of the security personnel of SBI Churachandpur main branch.
The body was handed out to the JAC and his family members, including the deceased's wife, Arambam Ronibala and their six year old son after due process and formalities.
Arambam's body was taken out of the morgue 24 days after he was shot. Later, the lifeless body was taken to their home at Khuga Tampak, Zoveng via Teddim road where mourners turned up in large numbers.
It may be mentioned that (Late) Arambam Ranjan alias Kuku, 35, son of (Late) Arambam Kumar Meetei of Khuga Tampak, Zoveng was employed with Writer Safeguard  Group (WSG). He was tasked to deposit money at ATM booths of SBI. He was shot around 10:30 am on September 4 and the killer had fled with a cash amount of Rs 1.15 crore, which later led to the arrest of three of his colleagues from WSG.
With the arrest of persons involved in the killing and assurance from the state chief minister for ex-gratia of Rs 5 lakh to the family of the deceased, followed by giving a government job to the deceased's wife, the JAC has decided to claim the body and perform his last rites.
In a release, the JAC against the brutal killing of Arambam Ranjan also said that the present government under Chief Minister N Biren Singh has sincerely taken political responsibility by fulfilling the demand of the JAC. The DGP of the state, SP of Churachandpur and other officers have shown honesty and dedication toward their duties, it added.
The JAC further expressed its gratitude for all the support given by the CSOs, including YPA, KIC, PTC, ZYO, Hmar Inpui, UZO and VA Zenhang Lamka, and also to all the stakeholders including print and electronic media in bringing justice and peace in Churachandpur district.
First Published:
Sept. 29, 2020, 8:30 a.m.