Fit India Freedom Run held at Thoubal
A function was held at Thoubal Melaground to promote Hockey in Manipur.
---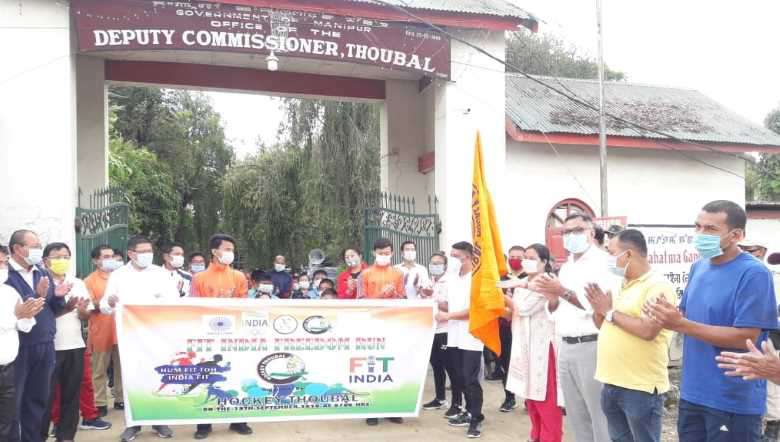 Manipur Hockey and Thoubal Hockey under the aegis of Hockey India organised a 'Fit India Freedom Run' on Monday at Thoubal district headquarter.
Deputy commissioner of Thoubal, N Bandana flagged off the run from DC Thoubal gate. The run was led by Hockey India president, Gyanendro Ningombam and it was participated by SP of Thoubal, S Ibomcha, social worker, L Basanta along with players of Thoubal Hockey and with other young Hockey players. The run concluded at Thoubal Wangmataba and gathered at Thoubal Melaground.
Later, a function was held at the community hall of Thoubal Melaground and discussed to promote Hockey in Manipur.
Gyanendro Ningombam, joint secretary of Hockey India, Nirmalata devi, president of Manipur Hockey, H Basudev, S Ibomcha, L Basanta, president of Thoubal Hockey, M Rajen and its secretary, Soibam Binoi attended the function as presidium members.
H Basudev said that Prime Minister Narendra Modi had launched Fit India Freedom Run to make a healthy and fit India. There is no use of being a great person if his health is not fit, he added.
While focussing on health related issues, S Ibomcha said that the youths should keep aside drugs and must pay attention to sports.
It may be mentioned that the run was carried out as part of Fit India Movement that kicked off from August 15 and to be continued till October 2 to encourage fitness in the country. The concept behind the run is that 'it can be run anytime, anywhere'.
Manipur Hockey had also carried out The Fit India Freedom Run in association with Hockey Units of Bishnupur district and Imphal East district on September 26 and the same was also carried out in Imphal West district on September 27.  Thoubal run was the fourth one.
First Published:
Sept. 29, 2020, 8:16 a.m.