'NPP will not take hasty decision whether to continue support to BJP-led government'
NPP interim president N Kayisii said hat that here is no division among the NPP legislators and that they will remain intact.
---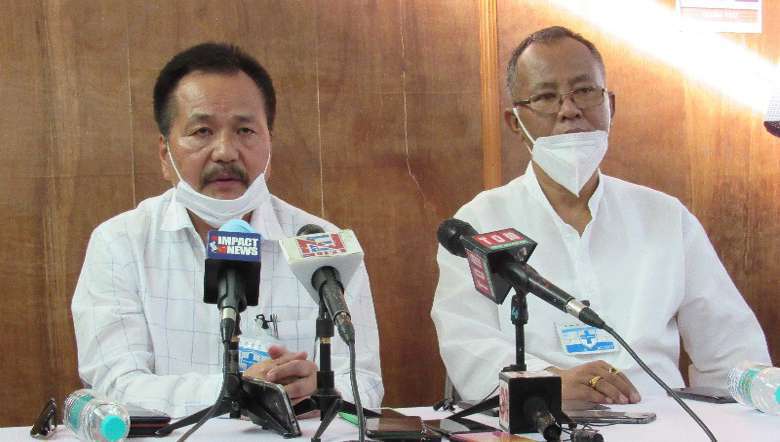 N Kayisii (L) and L Jayantakumar 0addressing the media (PHOTO: IFP)
---
The National People's Party (NPP) will not decide hastily but the question whether the party will continue support to the BJP led coalition will be known to the public in time, interim president of NPP, N Kayisii said on Monday. 
Kayisii, who was dropped from ministers along with L Jayantakumar, stated that there is no division among the NPP legislators and that they will remain intact. 
He was speaking to the media at the office quarter of former health minister, L Jayantakumar located at Babupara, Imphal.  
While deciding on the reshuffling of ministers, the government should inform the ally political parties whether at the state or national level. However, no information was given regarding the reshuffle, the ex-minister contended.
NPP is one of the political parties that extend support to BJP while forming the coalition government. In the recent cabinet reshuffle of Manipur government, six ministers including the two from NPP were dropped on Thursday last.
The interim president futher said that NPP MLAs met national president, Conrad K Sangma on Sunday night at Guwahati to discuss the matter wherein Sangma advised them to remain intake. 
In the coming by-election which is likely to be conducted by November, NPP will also field its candidates, he added.
Taking part in the press meet, former health minister, L Jayantakumar said the NPP will take time to decide on whether to withdraw or continue support to the coalition. 
"Whether the party support the government or not, the four NPP MLAs will remain intake," he stated.
"The chief minister is exercising his power to reshuffle the ministers and NPP do not have any regret but the newly inducted ministers should not repeat mistakes while giving speech at public platform," Jayentakumar stated.
While saying that the information of reshuffle should be given to North East Democratic Alliance (NEDA), he contended that the recent reshuffle of Manipur cabinet violates the ethics of coalition government.
"The sincerity of the people leading the state is doubtful and there is no meaning of having NEDA," stated the former health minister.
Jayantakumar also suggested the government to be cautious for other coalition members apart from NPP and should induct the remaining vacant seat immediately.
"NPP will never succumb to certain pressure and the party will stay true to past commitments,"he added.
First Published:
Sept. 29, 2020, 12:22 a.m.