Danger of flood recurring over plain belts of Garo Hills
Garo Hills has seen nonstop rains for the past five days.
---
By
NNN/Tura |
Updated on:
Sept. 25, 2020, 10:08 p.m.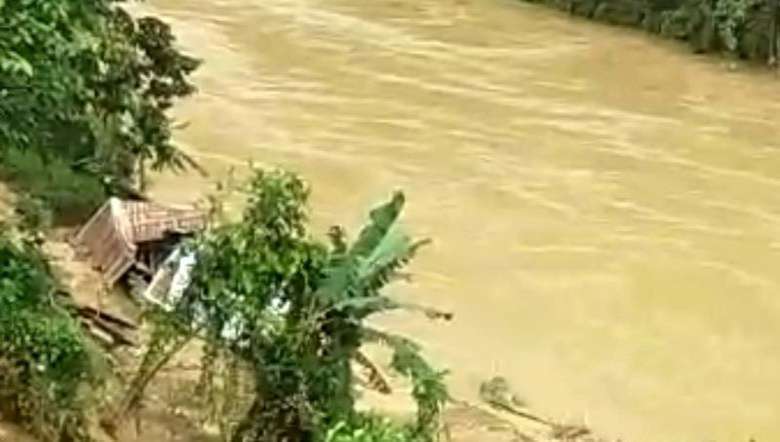 The threat of more flooding in the plain belt of Garo Hills is once again looming large after incessant rains over the past few days raising the water levels in most low lying areas of West and South West Garo Hills.
Garo Hills has seen nonstop rains for the past five days though the water situation has not been grim. However heavy rains since the afternoon of September 23 in most parts have raised alarm bells. Brahmaputra River and its tributary, the Jinjiram River have been the main contributors to the floods in the plain belt, with the back draft of the Brahmaputra proving costly to people and the agricultural lands.  
The district administration had earlier sounded an alert over rainfall in all the districts.
"The water level is rising but it is still not above the danger mark. Hopefully the rain will relent and allow the levels to go down. However if it continues to rain, the situation will turn ugly very soon," said a local resident of Phulbari, SR Sangma.
Many areas in Chibinang resembled the sea with water being seen everywhere submerging agricultural lands.
The plain belt this year has seen unprecedented rise in water levels due to continuous rains resulting in floods. The situation had become so grim that families continued to live on the AMPT road side, even a month after the floods got over. 
"The situation is being monitored and a close watch is being kept. Hopefully things will get better and we don't have another flood again. If needed, I will personally go to look at the situation," said Phulbari MLA, S. G. Esmatur Mominin.
Meanwhile, fresh rain which occurred again on Friday afternoon has raised fear of further erosion of the banks of the Brahmaputra – Jinjiram in the Old Bhaitbari area. Many people around the area have even had to abandon their houses due to the danger posed by the erosion.
First Published:
Sept. 25, 2020, 9:57 p.m.