Manipur Governor Najma Heptulla accepts CM Biren's proposal on dropping three cabinet ministers
Breaking News: Manipur Governor Najma Heptulla accepts CM Biren's proposal on dropping three cabinet ministers
---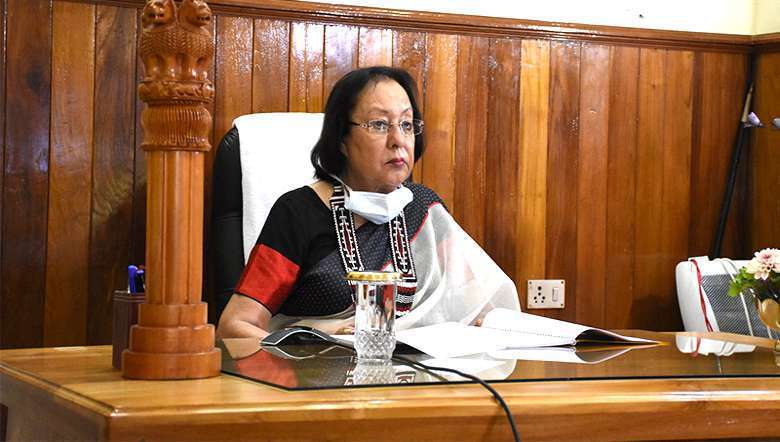 Manipur Governor Najma Heptulla (Photo: Facebook)
---
Amid upheaval in the Manipur government and speculation of a cabinet reshuffle, Manipur Governor Najma Heptulla on Thursday accepted Chief Minister N Biren's proposal on dropping three cabinet ministers.
Chief Minister N Biren Singh on September 23 proposed dropping of Agriculture and Animal Husbandry Minister V Hangkhalian, Social Welfare and Cooperation Minister Nemcha Kipgen and Education, Labour and Employment Minister Th Radheshyam from the state Council of Ministers. Following the proposal, the governor announced acceptance of it in a statement on Thursday morning.
"I have accepted the dropping of the following ministers (mentioned above) from the Council of Ministers as proposed," Najma said in the statement.
On September 21, Chief Minister N Biren Singh had rushed to New Delhi with BJP state president S Tikendra Singh to meet Union Home Minister Amit Shah. The two returned to Imphal on Tuesday, accompanied by Baijayant Panda, BJP national vice president, sparking speculation of possible state cabinet reshuffle. Social media was flooded with the talk of a possible reshuffle, to the extent of naming a handful of MLAs who were possible contenders for ministerial berth. Former MLA of Wangkhei O Henry Singh; former MLA Wangoi O Lukhoi; sitting MLA of Thanlon, Vunzagin Valte and Yaiskul MLA Th Satyabrata were among the contenders.
"As far as my knowledge is concerned I doubt that there will be an immediate reshuffle. As far as the visit of BJP central leader is concerned we have to wait and watch. We will go by the decision of the central leadership," Biren had told mediapersons on his return.
It may be recalled that post the Delhi visit of the CM's team, a resignation letter purportedly of Agriculture Minister V Hangkhanlian surfaced in the social media. However, another letter claiming to be signed by the minister surfaced, clarifying that the resignation letter earlier circulated in the social media was fake.
First Published:
Sept. 24, 2020, 10:12 a.m.