CM Biren inaugurates five projects, lays foundation for 46 projects in Manipur
Developmental works should not be politicised by anybody, the chief minister said on Friday.
---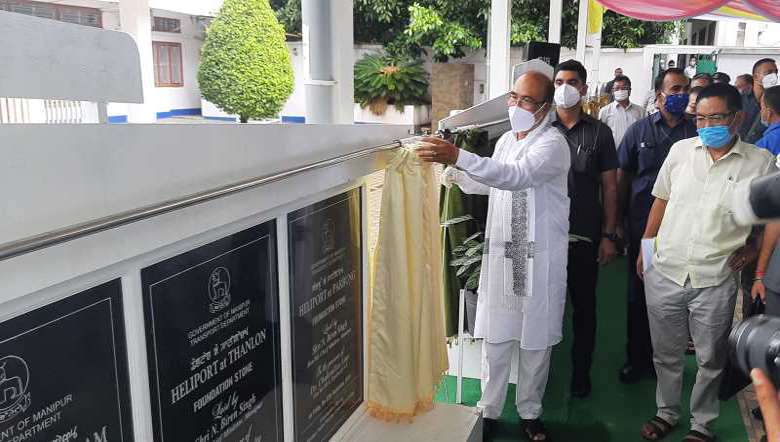 Manipur Chief Minister N Biren Singh on Friday inaugurated five projects under home, police and planning department and laid the foundation stone of 46 projects under different departments, at the chief minister's secretariat in Imphal on Friday.
Speaking at the occasion, Biren said developmental works should not be politicised by anybody. The state government is giving priority to development of hill areas because hill districts are less developed as compared with valley districts, he said.
After Go to Hills has been initiated by the present government, various developmental projects are being taken up in different hill districts in the state, with the focus on specific works and areas. After completion of all the projects which includes transit accommodation for nurses, doctors, teachers, there would be no problem for doctors, teachers and nurses working and posted at hill districts, Biren said.
The chief minister also expressed hope that people would be able to see a landscape change in hill districts when all the projects are completed. Compared with the past, where many developmental works were disturbed due to various factors, the chief minister said that taking up developmental works in the hill districts can go smoothly at present since there are less disturbances. Such changes are possible because people welcomed and supported the developmental works along with balance in governance maintained by the present government, he added.
Regarding Henglep Road, the chief minister clarified that a Rs 14-crore project in 2016 halted midway after a good progress at initial stages because of a complaint letter from a former MLA to the North Eastern Council. However, work for this project would begin soon, Biren said.
Commenting on the Hill Area Development Programme, the chief minister said that such a project was not implemented in the country in the past. However, the Centre introduced the programme after the present state government appraised the Centre that topographical need based budget is needed to bring equal development in hill and valleys, he said.
Biren Singh informed that transit accommodations for doctors, nurses and teachers are being constructed at 19 different places i.e. Churachandpur, Singhat, Borobekara, Jiribam, Tamenglong, Tamei, Noney, Kangpokpi, Senapati, Mao, Paomata, Saikul, Jessami, Ukhrul, Kamjong, Chandel, Chakpikarong, Moreh and Tousem.
Of these, the chief minister said, accommodations at Churachandpur, Singhat and Borobekara have been inaugurated today while works at the remaining places would be completed by December this year.
In order to provide air connectivity to interior areas of Manipur like Thanlon (207 km), Parbung (310 km) etc. at an affordable price and to boost air tourism, heliports would be constructed at Tamenglong, Thanlon, Parbung, Moreh and Jiribam, Biren said.
The projects, which were inaugurated by the chief minister, are Transit Accommodation for doctors and teachers at Singhat, Churachandpur headquarters and Borobekra (Jiribam), 100 SM two-storeyed barrack with toilet facility at Manipur Police Training College, Pangei and Model Police Station at Porompat.
The projects, for which foundation stones were laid, were Heliports at Jiribam, Tamenglong, Moreh, Thanlon and Parbung under the transport department, 12 storage warehouses in Imphal East, Imphal West, CEO Office Lamphelpat, DC Offices at Ukhrul, Tamenglong, Chandel, Senapati, Kangpokpi, Thoubal, Bishnupur, Churachandpur and Jiribam under Election Department, 17 Transit Hostels for Doctors/Teacher/Nurses and District Level Officers at different locations of Tamenglong and Noney districts and Hostels and Quarters for students and teachers at two Higher Secondary Schools at Tamei and Tamenglong under Hill Area Development Programme, 1000-capacity Convention Centre with Training Hall at Tamenglong headquarters and 284-vendor capacity new women's market complex at Tamenglong headquarters under Planning Department. 
The projects also included office buildings of Manipur Police Housing Corporation Ltd., Police Museum at 1st MR, City Police Station, Traffic Police Station, 40 SM Barrack at Commando Complex, Imphal West District, Infrastructure of newly opened Sangaithel Police Outpost, Imphal West and Infrastructure of District Police Head Quarters at newly created Kakching and Tengnoupal Districts, Girls' Hostel at Indira Gandhi National Tribal University (IGNTU) Campus, Makhan under PMJVK of the Minority Affairs Department, sheds for Hardware/Electronics Assembling at IT SEZ Campus, Mantripukhri under Central Sector Scheme of IT Development, Nongpok Thong (bridge) of Kangla over Imphal River under Imphal Smart City Limited (ISCL) and Development of Heritage Village at Yangkhullen, Senapati District under NEC 2017-18. The total estimated cost of the projects is Rs180 crore.
CAF and PD Minister Karam Shyam, Agriculture Minister V Hangkhanlian, MLAs and high ranking officials of the state government also attended the function which was organised by the Manipur Police Housing Corporation Ltd.
First Published:
Sept. 18, 2020, 4:29 p.m.