Cage culture for fish farming at Khuga Reservoir inaugurated
A proposal has been submitted to the Centre for 48 more fish cage pools in Churachandpur.
---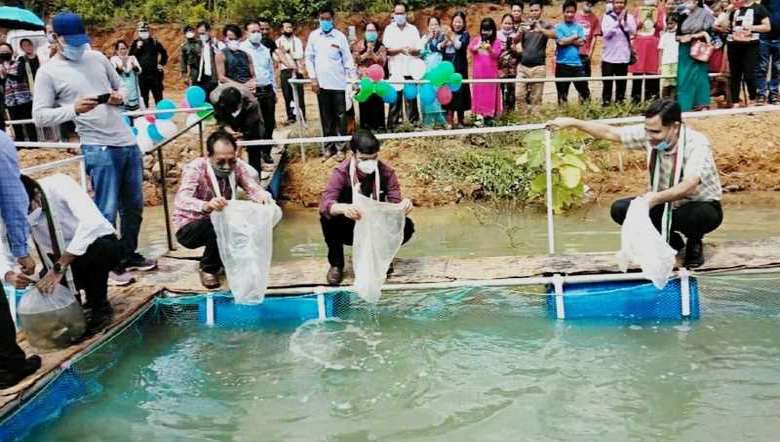 The Inauguration programme of 'cage culture for fish farming' at Khuga Reservoir was held on Wednesday at Geljang Resort Centre, Churachandpur.
The fish cage was constructed under Blue Revolution for 18 beneficiaries of Churachandpur district and it was inaugurated by additional chief secretary of Fisheries, MH Khan as chief guest.
The programme was also attended by DC of Churachandpur, Pawan Yadav as guest of honour and director of Fisheries, N Gojendro as functional president. It was hosted by DFO, Churachandpur, Jannesing Trao along with the 18 beneficiaries and the chief of Gelzang village.
MH Khan said that due to the hard work of the DFO, the cage culture has started. He continued that the state produces 32 metric tons of fishes annually but consumes more which comes to 52 metric tons in the same period. The shortfall of 20 metric tons comes from other states like Andra Pradesh and now the department has planned to overcome the deficit, he added.
He said that the proposal has already been submitted to the Centre to have 48 more such fish cage pools which will likely be materialised in two or three months for Churachandpur district.
He further informed all the beneficiaries to get bank loans that are available with the fishery department by contacting the DFO of the district, which so far had been availed by approximately 600 fish farmers in the state at a low interest rate.
While saying that the fishery department will provide fish feeds at a subsidised rate, he added that the department is trying much to help the fish farmers in consultation with UNDP in the near future.
First Published:
Sept. 17, 2020, 9:23 a.m.