When honesty takes the wheel of auto driver in Kangpokpi
Kangpokpi auto driver Ngulkhohao Chongloi rewarded for honest acts
---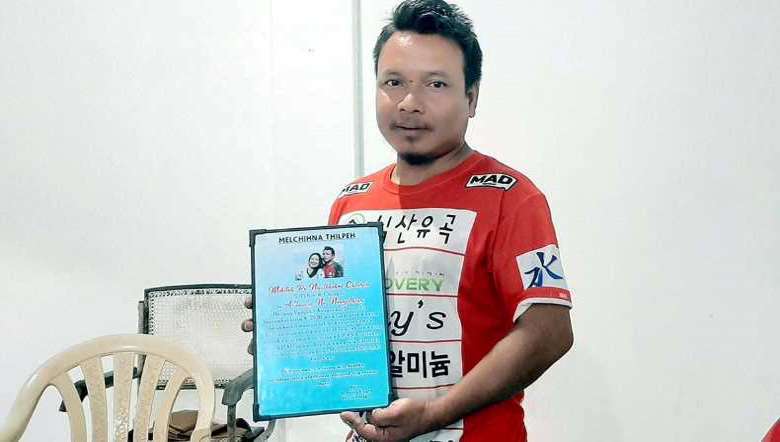 Auto driver Ngulkhohao Chongloi
---
After James Singh, an auto driver from Kangpokpi town who earned thousands of appreciation and recognition for his act of honesty, another auto driver of the town has won thousands of hearts with his inspiring and honest act.
Son of Reverend K Chongloi of Haijang village in Kangpokpi district, 41 years old Ngulkhohao Chongloi, who is an auto driver, returned a bag to the owner after he found it containing many valuable documents and cash.
When a local WhatsApp group circulated the story, the social media platform has been flooded with much appreciation, love and encouragement over the honest act of the auto driver.
Speaking to media persons, Ngulkhohao while narrating the story said that on the night of September 8 while returning home from Motbung after dropping passengers he found a grey coloured bag on the road between Saparmeina and Gamgiphai along the National Highway-2 at around 8 pm and 9 pm.
"I was a little curious initially as to what could be inside the bag but I gathered courage to collect the bag and on reaching home I found many valuable things including cash inside the bag. I became restless and then immediately posted in WhatsApp groups about the bag I have found," said Ngulkhohao.
He continued that he called up a few random numbers which he found inside the bag and finally one lady received the call, who happened to be the owner of the bag. He met her the next day and returned the bag, he added.
Out of happiness, the owner of bag, H Nancy Kipgen from Churachandpur rewarded the auto driver a memento at the office of Kangpokpi Youth Union (KYU) in the presence of its leaders, Kangpokpi Auto Owners' Association and admins of The Kanggui Post on Monday.
The bag contained a cash of Rs 18,000, a medicine worth Rs 18,200, various important documents such as Aadhaar card, PAN Card, ATM card, driving licence and others.
The auto driver, Ngulkhohao, who is the father of three children, had earlier returned Rs 1,50,000 to the owner which he found last year just before Christmas day and on several occasions he had also found many phones and wallets which were returned back to the owners safely.
President of KYU, Haolet Khongsai and president of Kangpokpi Auto Owners' Association, Satlen Kipgen lauded the sincerity and honesty of the auto driver and drew the attention of the district administration and local minister for Ngulkhohao's noble act.
First Published:
Sept. 15, 2020, 9:56 a.m.