AR action in Ukhrul's Namrei village go against peace talks: NPMHR
The Naga Peoples Movement for Human Rights has strongly condemned the action of the 27th Assam Rifles at Namrei village in Ukhrul district of Manipur and the use of force against the womenfolk of the village..
---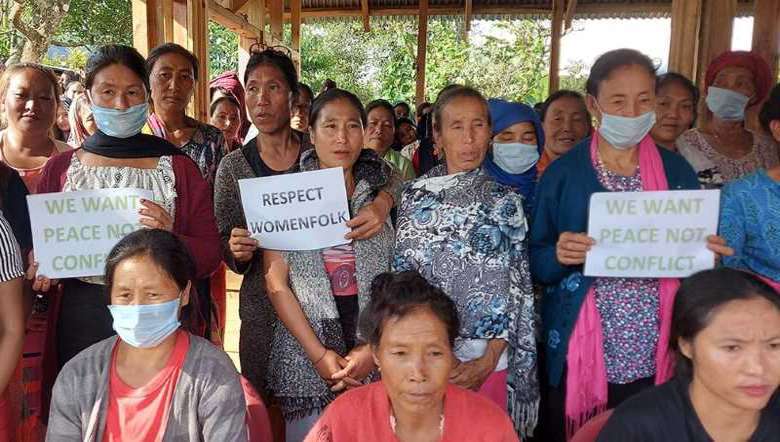 (PHOTO: Tennoson Pheiray-IFP)
---
The Naga Peoples Movement for Human Rights (NPMHR) has condemned the military action taken up by the 27th Assam Rifles (AR) led by the CO Rippon Bora on Friday morning at Namrei village, Ukhrul district reportedly to capture three NSCN (I-M) cadres, who were seeking shelter at a house in the village. 
The NPMHR also strongly condemned the alleged use of force by the AR against the women folk of Namrei village who had intervened and raised objections against the actions of AR personnel, stated a release signed by NPMHR (South) convener Joyson Mazamo.
The rights group also questioned the motive and sincerity of the AR in allegedly forcing the three NSCN (I-M) cadres and the headman of Namrei village to sign on blank papers; such tactics explicitly point to illegal intentions, it stated.  
At a time when the whole world is fighting against COVID-19 pandemic with strict SOPs and guidelines in place to stop community spread, such military action exposes the vulnerable public to grave danger, particularly considering that AR personnel are reported as having high rate of COVID-19 positive cases in Manipur, it added.
The NPMHR would like to place on record that there is currently a ceasefire in place between the government of India and the NSCN-IM, and talks between the two parties have been going on since 1997, it stated.
It further stated that such actions of the AR directly go against the principles of the peace talks, and threaten the progress and understanding achieved over the last 23 years. The government of India must remember and respect the spirit of ceasefire agreement between the two entities, it added.
The NPMHR reiterated that military actions under the pretext of maintaining law and order fostered by draconian laws such as the Armed Forces (Special Powers) Act seriously undermine the sincerity of the government in resolving the Naga issue.  
The NPMHR also demanded that the agreed ceasefire ground rules should be adhered to on both sides. It also demanded to immediately cease such operations that greatly endanger the whole community during this time of pandemic, it added.
First Published:
Sept. 12, 2020, 7:31 p.m.