Returnees share their experiences of life in quarantine centres at event in Moreh
The returnees shared their experiences at an interaction programme on COVID-19 on Wednesday at the conference hall of Hill Tribal Council (HTC) office.
---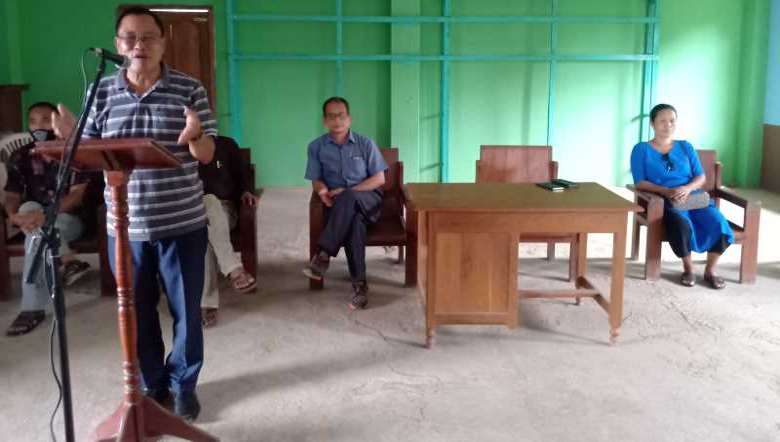 An interaction programme on COVID-19 with the returnees from other states was held Wednesday at the conference hall of Hill Tribal Council (HTC) office, where the returnees shared their living styles at the quarantine centres in the state and their ideas and experiences of how to combat COVID-19 pandemic.
The returnees also explained how the management authority and volunteers of the quarantine centre are running. Different returnees expressed own hard and happy times and also expressed their gratitude to the state government, concerned MLAs and local leaders for their help to bring them back to their homes.
The programme was attended by MLA of 42 assembly constituency, D Korungthang, ADC member of Chandel, Cecelia Haokip, president of HTC, Joseph Ginkhosei, general secretary of HTC, Mangminlen Singson and Victor Limthang of HTC as dais members.
Most of the returnees expressed their heartfelt appreciation to Cecilia Haokip, for her energetic and great role in bringing them back to life and making all the necessary arrangements while they were in quarantine centres.
After hearing the views and ideas from the returnees, D Korungthang said that most of the returnees from the district have tested COVID-19 and most of their results came negative except few. He also said that the state government has taken all the initiatives to facilitate the returnees, however the people should work together to fight against this pandemic.
As the returnees have experienced their lives in the quarantine centres and got the knowledge to overcome the disease, they should give awareness to the society on how to combat the disease, he added.
The MLA also pointed out how the pandemic has destroyed the economy of the country.
Cecilia Haokip said that as a leader and guardian of the district, it is her duty to work for the welfare of the society. She continued that during the time when the returnees were congested to reach their home state, most of them contacted her and accordingly, she did the job in all her best level. Also, most of the Myanmar nationals, who were studying in different states of India and returned to their homes, had mostly contacted her for assistance, she added
First Published:
Sept. 10, 2020, 11:37 a.m.