SBI ATM money depositors' guard shot at, succumbs to injuries in Churachandpur
The gunmen fled with Rs.1.15 crore money that was brought to be deposited in an ATM at Lamka in Churachandpur district.
---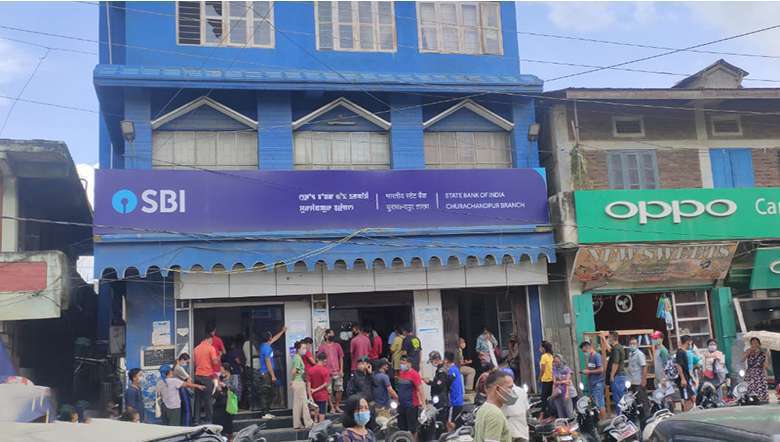 SBI Bank, Churachandpur (Photo: IFP)
---
A security guard of SBI ATM money depositors was shot at in broad daylight near an SBI branch by unidentified men who fled away with the Rs.1.15 crore money that was brought to be deposited in the ATM, Churachandpur district headquarters. 
The guard was fired at around 10.30 am today. He was rushed to the district hospital around 10.40 am and was later referred to Imphal considering his serious condition, but he succumbed to his injury at the district hospital. He suffered two gunshots around his waist, hospital sources said.
The victim was identified as one 37-year-old Arambam Ranjan Meetei, son of L Arambam Kumar Meetei of Zouveng, Khuga Tampak, Churachandpur. He was an employee of the Writer Safe Guard and entrusted to deposit money at different ATM booths in Churachandpur, under Hitachi and FIS.
The police have taken up the case for further probe into the incident  Till the time of filing the report, no suspect was arrested and police have taken the co-workers of the victim for interrogation.
Those who came to deposit the money came in a Bolero Jeep No. NL07 C 9242 that was parked at least 10 feet away from the ATM booth which is attached with the SBI main branch located at Tiddim Road where the incident took place.
However, on being asked, the roadside vendors who were sitting about two metres away near the alleged incident site said they did not hear any gunshot nor anyone running away with a loot.
First Published:
Sept. 4, 2020, 6 p.m.