Appoint nodal officer of DM Community College urgently: Students
The students appealed to the government to look into the matter and appoint a nodal officer at the earliest.
---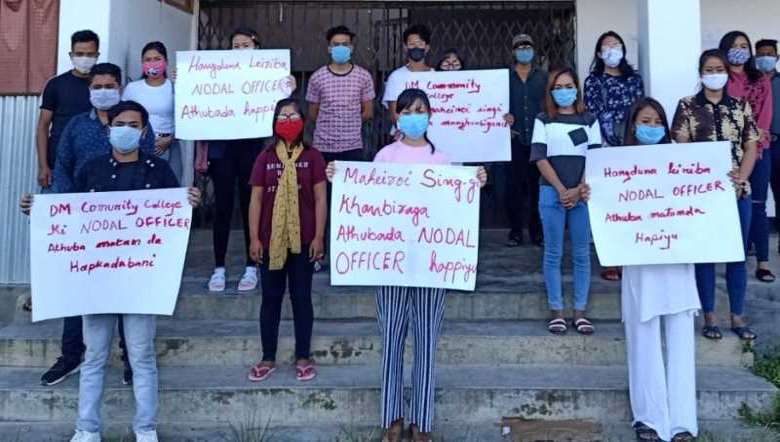 (PHOTO: IFP)
---
Demanding that a nodal officer of Dhanamanjuri Community College must be appointed at the earliest, students of the college staged a protest demonstration in front of the college, in the campus of DM University in Imphal on Thursday.
Speaking to the media, convenor of the 'Dhanamanjuri Community College Students Representative' Somi Takhelambam said that since the post of nodal officer of the college has been lying vacant, all the academic process has remained halted. There is no process initiated for conducting semester examination, online classes and new admissions, he added.
"It is unfortunate that the government has remained silent on this issue even though it knew that the post of the nodal officer has been lying vacant," he said.
The convenor appealed to the government to look into this matter and appoint a nodal officer at the earliest and save the careers of the students.
On Wednesday, the Democratic Students Alliance of Manipur (DESAM) locked up the principal's and administrative room of the college, condemning the appointment of an "unqualified teacher" as the principal in-charge of DM College of Teacher Education (DMCTE).
The DESAM stated in a release that there is no regular principal in DMCTE since the last 15 years but it is being managed by principal in-charge who does not fulfil the eligibility criteria of University Grant Commission (UGC) and National Council of Teacher Education (NCTE).
To make the teachers of education more professional, DESAM has been urging to remove the unqualified principal and appoint a new principal that fulfills all the criteria. But unfortunately, the state government had recruited the new principal who also does not fulfil any of the criteria of NCTE and UGC. The appointment was made just for the namesake, it added.
The DESAM said the appointment of "another unqualified" principal in-charge has ridiculed its long lasting demand.
Stating about the qualification of the newly appointed principal in-charge, it alleged that the state government so far is yet to recognise the PhD of the appointed person. The state government should recognise his degree before letting him to become the principal in-charge, it added.
DESAM would continue the agitation and the college will remain closed until and unless the state government fulfilled the demand, it appealed.
The release also mentioned that the BEd course of the college was also removed by NCTE for the year 2020-2021 due lack of regular teachers. The state government should give due attention to revive the course by filling up all the required vacant posts of the college, said DESAM in the release.
First Published:
Sept. 3, 2020, 7:32 p.m.