Drive against unauthorised accommodation of government quarters begins
Speaking to Imphal Free Press, deputy commissioner of Tamenglong, Armstrong Pame said that several retired staff continue to stay in government quarters.
---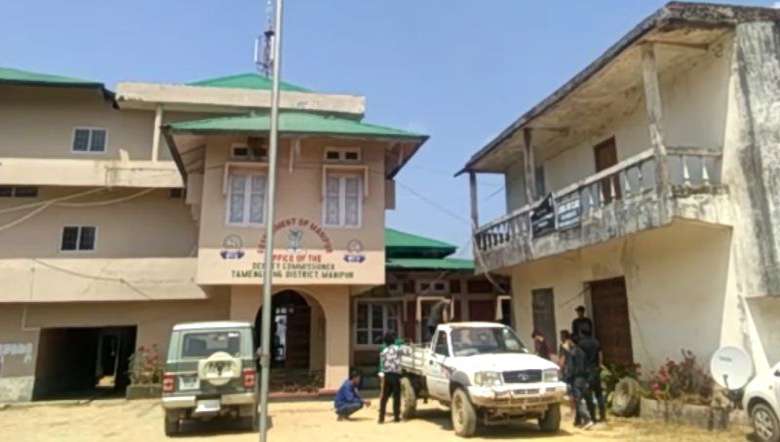 Office deputy commissioner of Tamenglong (PHOTO: IFP)
---
In view of new developmental projects to be sanctioned and its requirements of government lands, the district administration, Tamenglong has started a drive against occupation of government quarters by government servants even after retirement.
Speaking to Imphal Free Press at his office chamber, deputy commissioner of Tamenglong, Armstrong Pame said that several retired staff continue to stay in government quarters.
"This is against the rule and provision of the government. At the time of retirement all the employees were issued Non-Accommodation Certificates from this office as per the report put up through their concerned Head of Department or DDO in the district. Only after producing the non-accommodation certificate, a termination order was issued and pension papers were processed accordingly," said Pame.
He said that verification is underway in full swing for both types of government employees - those who are currently in service and who have retired. He said it has been reported that several government employees had taken government accommodation and had rented out the quarters to their relatives or others while they no longer stay there.
"Because of this practice several government quarters have been occupied for so many years and in the process the quarters have almost become private properties and this malpractice needs to be corrected," said the deputy commissioner.
He also said that he had directed all the concerned district level officers (DLOs) to report to the DC office, Tamenglong, about the employees who are occupying government quarters, on or before August 25.
The deputy commissioner said he has informed that all the employees who are being allotted government quarter have to certify that they continue to retain their quarter by August 25 which will be subject to further verification by district administration. While the retired employees who continue to occupy government accommodation have to report on or before the same date to the DC office and surrender the same within August 30, otherwise their issued non-accommodation certificate will be subject to review.
He also said that payment of bills will not be passed if the DLOs do not report on or before August 25.
Meanwhile, one unauthorised occupant, who did not want to reveal her identity, said that the order to verify the government quarter's occupant has shocked her. She said that they have been staying in the quarter since a few years ago with their relative who is a government employee. Now her family is looking for a new rented house and they will vacate the quarter before August 25, she added.
First Published:
Aug. 19, 2020, 10:28 p.m.