Tobacco items worth over Rs 1 lakh disposed of
The tobacco items were seized on Monday at about 9.20 pm from Uyumpok Mamang Leikai near the local football ground
---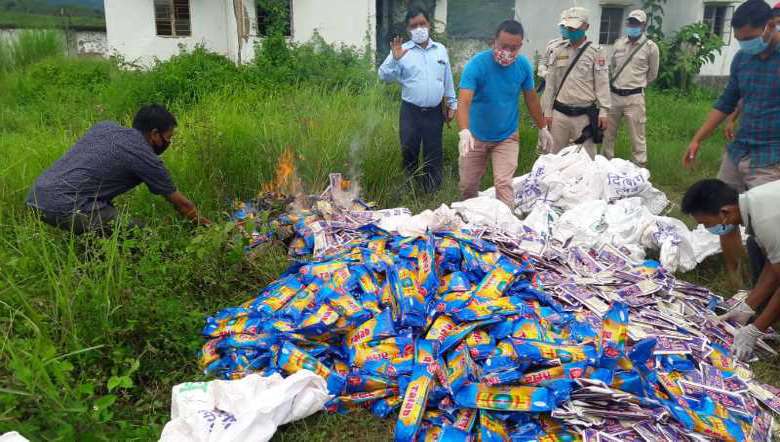 Amid the ban imposed on consumption of tobacco products (excluding cigarettes) to prevent the spread of COVID-19 in the state, tobacco products worth around Rs 1.5 lakh were burned on Wednesday in the presence of designated officer, food and safety administration, Imphal East, Tekcham Brojendro Meitei.
According to a reliable source, the tobacco consignment belonged to a national sports player who started doing business on essential items amid the lockdown. The person has been reportedly running a business of selling essential items, including onions, potatoes and others at the hill districts of Kangpokpi, Senapati and others.
The tobacco items were seized on Monday at about 9.20 pm from Uyumpok Mamang Leikai near the local football ground while checking a vehicle bearing registration number MN06L 1733. The checking was conducted by a joint team of Village Development Sporting Club, Pukhao Laipham and meira paibis of the surrounding area.
In a video clip, Brojendro said that the Indian Council for Medical Research (ICMR) has announced to ban the consumption of tobacco products, including Paan, Gutkha, Kheini and others amid COVID-19 pandemic. Consumers of such products usually tend to spit in public and it could spread the virus, he added.
Also Read
First Published:
Aug. 19, 2020, 9:09 p.m.