Manipur reports one more death due to COVID-19
The COVID-19 death toll in the state now stands at 18 while the number of positive cases has reached 4,765.
---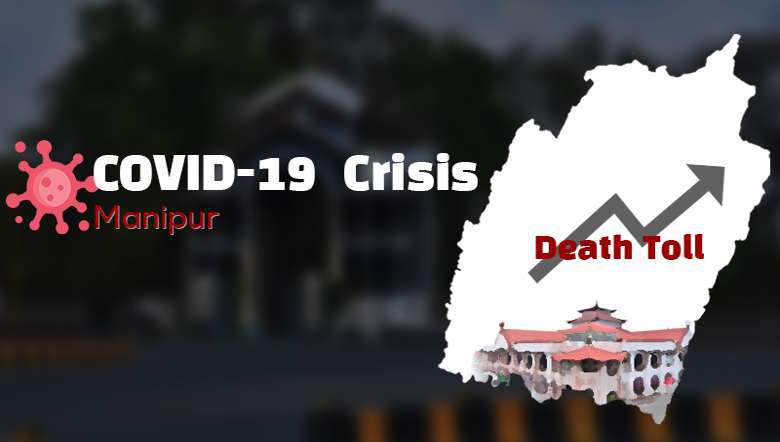 The pandemic COVID-19 has claimed one more life in Manipur at the Jawaharlal Nehru Institute of Medical Sciences (JNIMS), Imphal on Tuesday. The death toll now stands at 18.
Medical superintendent, JNIMS, Dr Rajen said that the patient was first brought to casualty from her home this morning due to complaints of chest pain and fever. A rapid antigen test was conducted and she was confirmed positive of the virus, he said.
The deceased is a 75-year-old woman from Keishampat Mutum Leikai. The patient succumbed to the disease in the wee hours while undergoing treatment and it is expected that she might have hypertension and heart disease, he added.
Meanwhile, 73 persons (49 males and 24 females) from the general population and five personnel from Central Armed Police Force (CAPF) were confirmed as new COVID-19 positive cases in the past 24 hours, stated a release issued by COVID-19 Common Control Room.
The positive cases are from VRDL, JNIMS- 15; JNIMS RAT- 1; RIMS TrueNat- 9; Jiribam RAT- 1; Noney RAT-2 ; Imphal West RAT – 36; DH Bishnupur- 9; Imphal East RAT – 4 ; Public Hospital and Research Institute – 1, it stated.
They are from Imphal West – 44; Imphal East – 16; Bishnupur -nine; Noney -two; Thoubal -two. Only four from Imphal West out of the general population are returnees from other states and the rest are locals without any significant travel history and they are being shifted to the Covid Care facilities, the release stated.
All necessary medical precautionary measures like containment and contact tracing are in place, it added. In the past 24 hours, 55 persons have been discharged.
The cumulative number of positive cases is 4,765. The cumulative number of discharged cases is 2,789. The number of active cases in the state is 1,958. The Recovery rate is 58. 53 per cent.
The release mentioned the psychological support helpline numbers 8787457035, 9402751364 and 76299435961 which are available 24x7. Hospitalization helpline toll free number is 1800-103-2015 and helpline COVID-19 common control room number is 1800-345-3818, it added.
First Published:
Aug. 18, 2020, 9:37 p.m.