Thoubal: 17-year-old girl allegedly raped; accused arrested, tests positive for COVID-19
The incident took place at Sangaiyumpham Pulleipokpi Salam Macha under Thoubal Police Station on August 11
---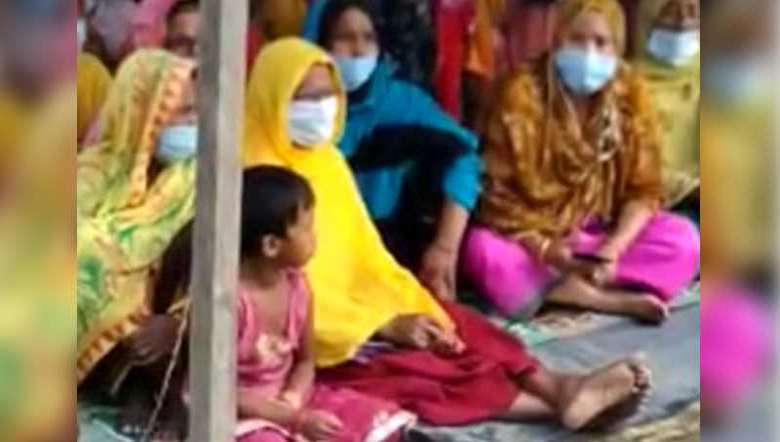 Women in Thoubal locality hold sit-in protest against the alleged sexual attack on a 17-year-old girl, demanding the culprit be punished.
---
In a shocking incident amid the lockdown and curfew, a 17-year-old girl was allegedly raped by a shopkeeper at a village in Thoubal district of Manipur, who was found positive for COVID-19 on being arrested and tested, sources said on Sunday.
Meanwhile, on learning about the incident, Thoubal police picked up the accused, one Md.Sidik Ali, on Sunday and after conducting necessary COVID 19 Antigen test at the District Hospital Thoubal, he was found positive, and shifted to Isolation Ward of the hospital, the police said. 
The incident took place at Sangaiyumpham Pulleipokpi Salam Macha under Thoubal Police Station on August 11, when the minor girl came to buy edible items (potato as informed) from a shop around 9 am. The shopkeeper told the girl to come inside the shop to pick the items herself and he allegedly raped her inside his shop which is opened at his residence, according to reports.
The matter, however, came to light on Saturday and the Thoubal Police has taken up a case in the matter.
The accused has been identified as 37-year-old Md.Sidiq Ali, son of Md Sadali, a resident of the Sangaiyumpham Pulleipokpi Salam Macha, according to the reports.
When the incident came to light on Saturday, the womenfolk of the locality staged a sit-in protest at Sangaiyumpham Salam Macha demanding to nab the accused and give him befitting punishment at the earliest.
A public meeting was held in connection with the incident on Saturday itself and some key resolutions were taken unanimously. The meeting which organised by the Mairel khul Youth Devepolment Association took some key resolutions unanimously. It was resolved that the accused must be punished according to law by the authority concerned at the earliest. It was also resolved to request the government for providing compensation to the victim.
The meeting also resolved to take up agitations if the authority concerned failed to fulfill the demands. The locals said they will come up with severe forms of agitations in consultation with CVOs and women organisations of the state.
First Published:
Aug. 16, 2020, 12:15 p.m.