'People should stop using unauthorised Virus Shut Out'
The "Virus Shut Out" is a lanyard with chlorine dioxide, a compound used for fumigation and disinfecting water.
---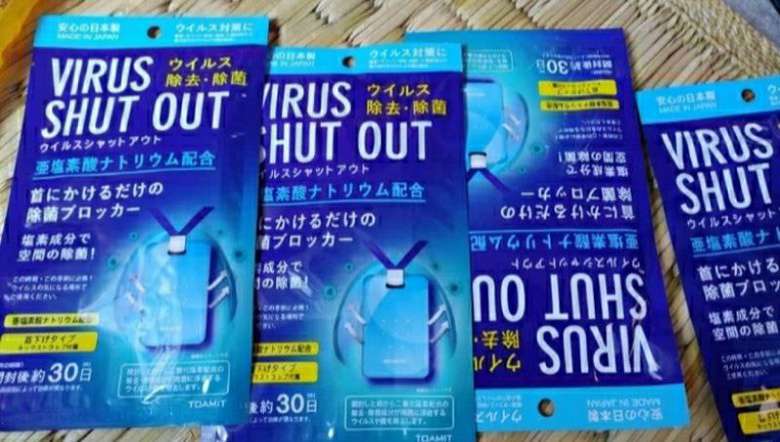 (PHOTO: IFP)
---
A Japanese product called "Virus Shut Out" which makes dubious claims without any authorisation to work as an anti-virus that protects wearers against viruses, is now being used widely among the people in Manipur.
"People should stop using such unauthorised products which may cause serious health effects," said Nongthongbam Rimotkumar, state drug controller and licensing authority to the Imphal Free Press over the phone.
He said, many people specially the security forces have started using this so called Japanese product. However, it is yet to ascertain what their actual benefits are. Rimotkumar said he has no information in which category the product is included though he and his team will collect the product from sellers to identify the category and other necessary details.
Such products would not be used on such a wide scale if the people can think and actually understand what they truly are, he added.
The people have been instructed to follow the guidelines from ICMR and WHO to protect themselves from COVID-19, he said. It is better if people follow the guidelines and ignore such unidentified and unauthorised products, he added.
It may be mentioned that the Environmental Protection Agency (EPA) of the United States has banned the sale of the product. It has also been banned in Vietnam, Thailand and Philippines.  
The "Virus Shut Out" is a lanyard with chlorine dioxide, a compound used for fumigation and disinfecting water. It is being sold on the price rate of Rs 120, 220, 300 and 400 as per the rates set by the seller. They are also available on leading e-commerce sites though with a higher price tag. With a shelf life of 60 days, it claims to restrict the virus within one-metre radius.
Meanwhile, a release issued by COVID-19 Common Control Room stated that the use of "Virus Shut Out" has increased among the public. Chlorine dioxide in aqueous solution is used in disinfection of drinking water. The virus destroying capacity in the spray form or slowly emitting gas form is not yet established, it stated. The state health department does not recommend its use in prevention of COVID-19 pandemic. The public must be weary of use of such unproven devices, it added. 
First Published:
Aug. 9, 2020, 8:36 p.m.