Agriculture Minister Narendra Singh Tomar launches guidance videos on Sahakar Cooptube NCDC Channel
The union government under Atma Nirbhar Bharat has recently announced a series of transformative measures and sector specific financial packages to help agriculture
---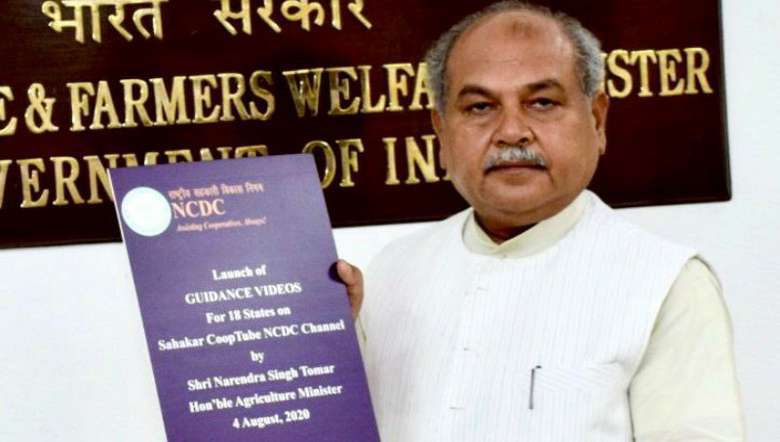 Union Agriculture Minister Narendra Singh Tomar
---
Union agriculture minister, Narendra Singh Tomar has launched guidance videos for Sahakar Cooptube NCDC channel.
Accordingl to a release, the guidance videos in different languages covering 18 states would strengthen and deepen the major initiatives of the government to promote and form 10,000 FPOs. NCDC has a major role in formation of FPOs in cooperative mode, it stated.  More states would be added to the collection of guidance videos on NCDC Sahakar Cooptube Channel in due course of time, it added.
NCDC has launched various initiatives and programmes like Sahakar-22 to develop cooperatives in Focus 222 districts including aspirational districts, Nurturing Primary Level Cooperatives, Sahakar MITRA - Scheme on Internship Programme, and Yuva Sahakar- Start Up Scheme in Cooperatives and Sahakar Pragya for capacity development through its premier national academy named after the great cooperator, Laxmanrao Inamdar, it stated.
NCDC Design Studio has produced guidance videos on 'Formation and Registration of A Cooperative' for eighteen different states in Hindi and regional languages, it added.
The union government under Atma Nirbhar Bharat has recently announced a series of transformative measures and sector specific financial packages to help agriculture, it stated. The initiatives are steps towards 'One Nation One Market' with the objective for India to become the food factory of the world, it stated. 
Cooperatives in India, have come a long way and have proven their success in improving the conditions of farmers and economic development, it stated.  Largely as an association of small and marginal farmers and rural poor, the cooperatives have acquired a huge network of over 8.50 lakh organisations and 290 million members, it stated.
It is a good step by NCDC to produce in-house short films or guidance videos on 'Formation and Registration of a Cooperative' in Hindi and other regional languages, it added.  
First Published:
Aug. 7, 2020, 10:51 a.m.