VDF personnel warn of intensified strike if demands not met
The All Manipur VDF Welfare Association has been on 'arms down-pen down' strike since July 16.
---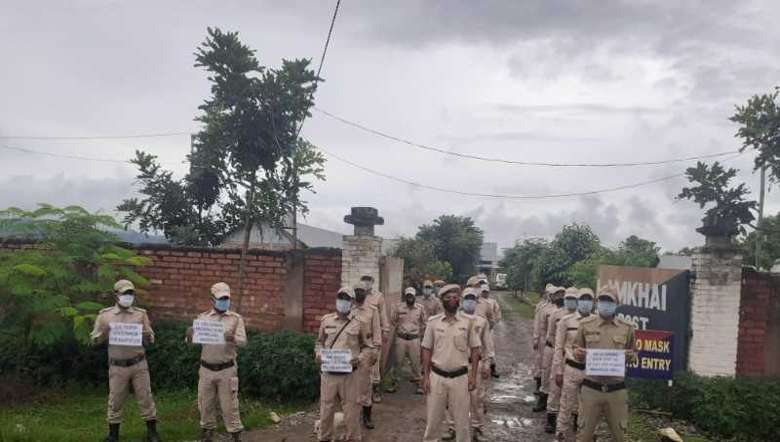 VDF personnel on strike in Imphal (File PHOTO: IFP)
---
The All Manipur VDF Welfare Association is determined to continue its 'arms down-pen down' strike till their demands are fulfilled. It warned of intensified strike If the demands were not fulfilled in time.
The association will not accept the increment of a monthly honorarium at Rs 10,500 with ration money, All Manipur VDF Welfare Association president Md Riyaj Khan said on Thursday.
The association has been on strike since July 16 for its various demands to be fulfilled in time.
In some local dailies, the chief minister expressed that the monthly honorarium will be increased to Rs 10,500, Riyaj said in a video statement.
After considering the prevailing situation of the pandemic, the personnel had planned to withdraw the ongoing strike, but it came to their knowledge that the increment does not include ration money, said Riyaj.
He said the ration money is to be given to the commander of respective groups as mess fees after deducting from the monthly honorarium. Even with Rs 10,000, a personnel cannot run his family and how could a personnel run a household with Rs 8,500, he said.
The strike will continue until the demands of the association are fulfilled, Riyaj said. He said if the government failed to give 13 months' monthly honorarium for the VDF personnel, then the personnel should be given holidays on state general holidays.
On similar note, a press statement was issued by general secretary of All Manipur VDF Welfare Association, Sh Shanjit Singh. The monthly honorarium of VDF personnel should be given to 75 per cent of state police constables that is Rs 18,566, it stated. The association also demands for service regularisation.
It stated that the association has resolved in a consultative committee meeting that it will storm the Manipur Legislative Assembly during the assembly session to be conducted on August 10.
First Published:
Aug. 7, 2020, 8:24 a.m.