False security and misleading public health messages: Death and COVID-19 in Manipur
Normalising the death of people with comorbidities who are also infected with COVID-19 is not really normal.
---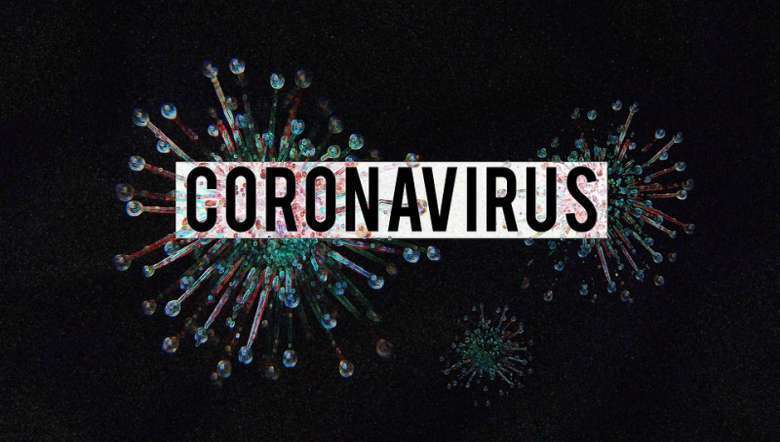 Representational image (PHOTO: IFP)
---
It is globally documented fact since the early days of Covid 19 pandemic that persons with co-morbidities (hypertensions, diabetes, cancer, heart ailments, chronic kidney diseases, obesity and respiratory ailments) and senior citizens- age above 60 years are at high risk of contracting COVID-19 and the outcome could be poor leading to death.
Integrated Disease Surveillance Programme (IDSP) which is under the Ministry of Health and Family welfare conducted an analysis of COVID-19 death with the data available till July 2, 2020. The analysis report showed that 57 per cent of Covid deaths had co-morbidities and the remaining 43 per cent of deaths were solely due to COVID-19. The report further highlighted that 43 per cent of the deaths also occurred in the age group of 30-60 years. This means COVID-19 death among the healthy and so-called 'low risk individual' is almost equal to those with comorbid conditions. This finding is contrary to the common belief that healthy people with no underlying health conditions rarely died of Coronavirus.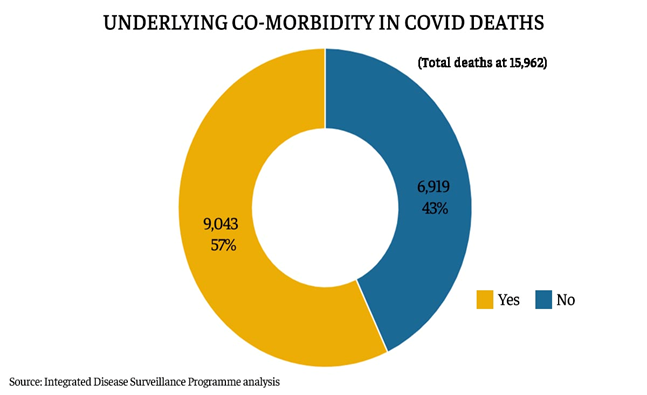 ( Source: https://theprint.in/health/43-of-covid-patients-in-india-who-died-had-no-comorbidities-govt-analysis/453687/)
Changing Epidemiological characteristics of Covid 19 pandemic in Manipur
Stage 1: Imported cases
In Manipur, epidemiological characteristics of Covid 19 pandemic has been changing since the first imported case on 24th March 2020, then among the returnees from other states of India. This is the phase where the disease was introduced but disease profile was restricted to the people with travel history to the infected areas and who are in the quarantine centres.
Stage 2: Local Transmission
In this phase the virus started spreading locally through an individual who has a travel history or through someone who has come in contact with an already infected person. Every case has a known source of infection in this phase. This stage had started at Manipur with COVID-19 positive cases reported from at least 28 police personnel at Jiribam district on July 3, 2020 following the case of an Assistant sub inspector who found to be COVID-19 positive while helping the returnees from other states at Jiribam railway station. Since then local cases have been reported from various parts of the state. Health authorities reported that local transmissions happening in the state are traced back to coming in contact with returnees who tested COVID-19 positive. In this stage we usually observe an infected person pass the virus onto his/her family, friends, neighbours, and people who tend to be in his/her close vicinity and locality. This phase is to be handled with quick response of contact tracing, testing, isolating, treatment and community action of physical distancing, wearing mask, hand hygiene, avoiding going out of house unless it is very necessary and avoiding crowded places. As of August 4, 2020, out of 3 018 total cases, 485 are with no travel history which is 16 per cent of the total cases.
Stage 3: Community Transmission
This is the phase in which an individual with no travel history to an infected area and who does not have any known source of contact with an infected person becomes positive of COVID-19. It is when we start getting the corona virus infection from any random persons who they themselves are not even suspected of getting infection. Once the community transmission starts COVID-19 cases will be reported from random individuals in the community making the situation difficult to contain and break the transmission. At this stage, we don't know about the source of infection for patients. The virus becomes part of large social circles. Therefore, contact tracing can be impossible in this stage. In this phase, large stage lockdowns become extremely important. Public health response in this phase should be more aggressive. It is a known fact in India's response to COVID-19 pandemic that government authorities are very proactive in denying the fact that India is at this stage 3 for a long time, may be because they felt that community transmission means failure in their containment efforts. Therefore, not declaring community transmission in the country becomes politically convenient. According to an article published on August 1 by FPSJ Review of Arts and Politics, in Manipur, experts have expressed that we are at the verse of community transmission but we cannot describe yet the stage of our state as community transmission because the local transmission beyond containment zones is not yet spread far and wide. On the other hand, other experts said that "It can be considered as community transmission even though the number of local transmissions is less than 20 per cent of the total positive cases as per Government of India's guidelines." Even the political leaders of Manipur are also giving contradictory statements on community transmission in the state. With the increasing number of reported positive cases every day without the travel history, people of Manipur are now anxious if we have reached this stage or not. Important point to be noted here is denying an epidemiological characteristic so strongly without any proven facts and evidence can do more harm in pandemic response than simply saying 'we don't know'.
Stage 4: Wide Spread outbreak
This is the final stage of disease transmission where a number of cases and deaths are happening rapidly with no end to be seen. And the disease becomes 'endemic' means disease becomes part of the population. We have been hearing higher authorities even in Manipur telling the citizens 'Now, we have to live with corona virus' without really telling the citizens how we live with this virus and how the government is preparing the country/state to live with this virus. When we reach this stage, it is really important for the government to have a state level guideline on how to safely open the activities and what are the so called 'new normal' to be followed.
Death and COVID-19 in Manipur
Manipur recorded its first COVID-19 related death (or death from COVID-19?) on July 29. 3 more deaths were reported on the following day. Since then we have seven deaths reported till August 4.
Demographic and clinical profiles of the deceased COVID 19 positive patients (Data till 4th August, 2020)
| | | | |
| --- | --- | --- | --- |
| Date of Death | Age | Sex | Comorbidities/ other health conditions |
| July 29 | 56 | Male | Kidney disease and hypertension |
| July 30 | 48 | Male | Stage V kidney disease, liver infection, heart disease and other health complications |
| July 30 | 47 | Male | Kidney ailments |
| July 30 | 60 | Male | High risk age group |
| July 31 | 40 | Male | Type 2 diabetes and Hypertension |
| July 31 | 77 | Male | Type 2 diabetes, hypertension and Chronic Obstructive Pulmonary Disease (COPD) |
| August 2 | 20 | Female | Full Body paralysis for a long time |
In the media reports and press releases, health authorities have emphasised that most of these COVID-19 positive patients succumbed to death due to multiple organ failure because of co-morbidities they already had.  For the past few day's discussions on local TV channels and media have been about the cause of death among the COVID-19 patients with underlying health conditions. Even during such discussion health experts were clarifying and emphasising the cause of death more on the fact of co morbidities condition and older age group rather than the significance of the fact that they all were infected with Coronavirus. The message from the experts implies that "people should not be worrying because no one has died because of COVID-19 in our state. All deceased patients were due to their own other health conditions".  Uptake of such messages by the citizen was also evident from the comments by viewers of those discussions.
As evidence from global trends we agreed that there is a higher risk of poor health outcomes among the vulnerable population (co morbidities and senior citizens). However, findings of IDSP data analysis showed that in India, with the progress of pandemic, people dying from COVID-19 alone without any comorbidities condition and people in the age group of 30-60 is not really insignificant (43 per cent).
Another interesting fact is the similar reaction of Health authorities/ government of Manipur with those reactions India had when the first three Covid deaths happened during March, 2020. The Government of India attributed the death of these three people to a long list of comorbidities. This nature was also observed among the political leaders of other countries such as Italy during the early phase of pandemic.
Even if we consider that authorities are giving such statements not to create panic among the citizens, it gives a very wrong message and the underlying meaning sounds like 'it is normal to die COVID-19 positive people with comorbidities.' Normalising the death of people with comorbidities who are also infected with COVID-19 is not really normal. Now, let's frame the question this way 'why are all the people with comorbidities dying at the same time?' 'is it a coincidence that all of them are dying at almost the same time?' Or 'is it the infection with corona virus that triggers their worsening health situation?'.
On the other hand, death should not be the only outcomes that matter in case of COVID-19 pandemic. Elderly and vulnerable groups with co-morbidities are not the only ones who may have severe complications of COVID-19. There is growing evidence across the world about the long-term effects of coronavirus infection even after the patients fully recover. The term 'Long Covid' is being used to describe illness in people who have either recovered from COVID-19 but are still reporting lasting effects of the infection or have had the usual symptoms for far longer than would be expected. In Manipur, recovery rate is 60 per cent, out of 3,018 cases reported, 1,814 are recovered cases. While we are being happy with the news of more recovery cases, who is informing the recovered individuals about the possible 'long covid' illness which can be both physically and emotionally? This emotional effect can be more prominent in Manipur with increasing stigmatization of COVID-19 positive people who are recovering, who have recovered and discharged from Covid care centres and their families.
Therefore, the questions here are 'is it a right approach to give false security among the citizens especially when we are at the verse of community transmission?' 'Shouldn't it be a more appropriate risk communication strategy that the authorities provide more transparent and true information instead of downplaying the words?' Statements such as 'mortality amongst COVID-19 positive patients who don't have co-morbidity is very rare….' by health authorities is not really supported by available data of India. Controlling the panic of citizens by downplaying the words and with incomplete information would create more confusion, misleading and more harm in the long term. No matter how many co morbid conditions all the deceased people had, we cannot deny the attribute of COVID-19 to their death. Therefore, what is more important now is sending out accurate public health messages by the right people on how we as the younger generation protect ourselves and our senior citizens and vulnerable high-risk population from COVID-19. Actions of younger generations are really important and for our actions to be more effective, right actions of Government and strong political will is also equally important. Being at denial stage for long will only result in our little state both in 'health crisis' as well as 'humanitarian crisis' just like what had and has been happening in other states of India. This will further lead to distrust of the government by citizens which is a known barrier in any outbreak investigation. The bottom line is accepting the reality of health emergencies as soon as possible and being transparent by the government is the first step in public health response for successful containment of any outbreak.
First Published:
Aug. 6, 2020, 4:54 p.m.