Manipur on the verge of community transmission: Dr Sasheekumar Mangang
The COVID-19 positive tally in the state has surged to 2,458 including 1,653 recovered cases and 805 active cases.
---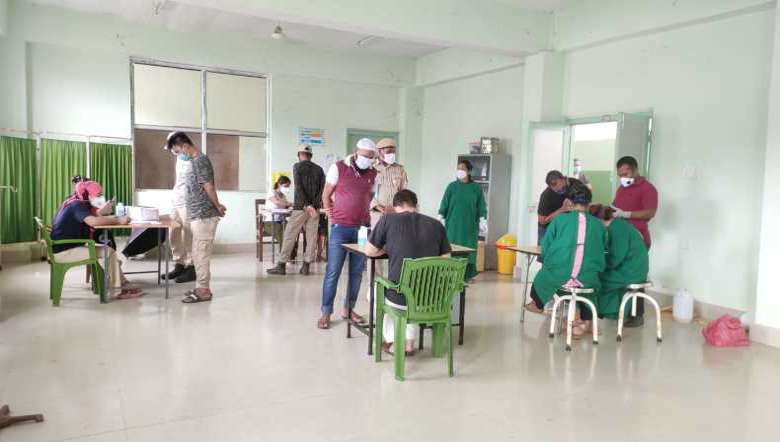 Representational Image (PHOTO IFP)
---
Manipur has passed the stage of local transmission and is entering the initial stage of community transmission, additional director and spokesperson, health department Manipur, Dr Khoirom Sasheekumar Mangang said on Wednesday.
Dr Mangang, however, said the use of the term 'community transmission' should be put on hold until an expert team declares it.
Recalling the initial stage of the COVID-19 outbreak in the state, Dr Mangang said in a release the state had to send swap samples for testing to Pune in the absence of equipment. But as the number of COVID-19 positive cases in the state rose, the state government has been stepping up testing and taking other preventive precautionary measures from time to time, he said.
Today, with testing facilities available in the state, over 2,000 samples can be tested in a day, the doctor said, adding, till date over 80,000 samples have been tested. He also said that at present the state has about 40-50 ventilators.  
With the initiatives of state Health Minister L Jayantakumar, facilities to fight against COVID-19 is getting better. But without the initiatives from people it will be hard to face the war of COVID-19, Dr Mangang said.
Stressing the need to create awareness about the disease, the state health official said that people as well as leader of a community or locals should be well aware about reducing the risk of transmission. To fight against COVID-19 in the present scenario, all must stay fit and health by consuming nutritious food, indigenous medicine and proper sleep, he added.
Meanwhile, the COVID-19 positive tally in the state has surged to 2,458 including 1,653 recovered cases and 805 active cases. The recovery rate of COVID-19 for the state has risen to 67.24 per cent. But the state on Wednesday reported its first fatality due to COVID-19. A 56-year-old COVID-19 patient from Thoubal district, who was suffering from multiple organs failure, died at RIMS today, the state health department said.
First Published:
July 29, 2020, 10:46 p.m.