How fear of COVID-19 can cause health problems and social ills
Experts, including Dr Lenin of RIMS spoke on the COVID-19 awareness seminar organised by the Manipur Baptist Convention, Imphal to help fight the fear of it.
---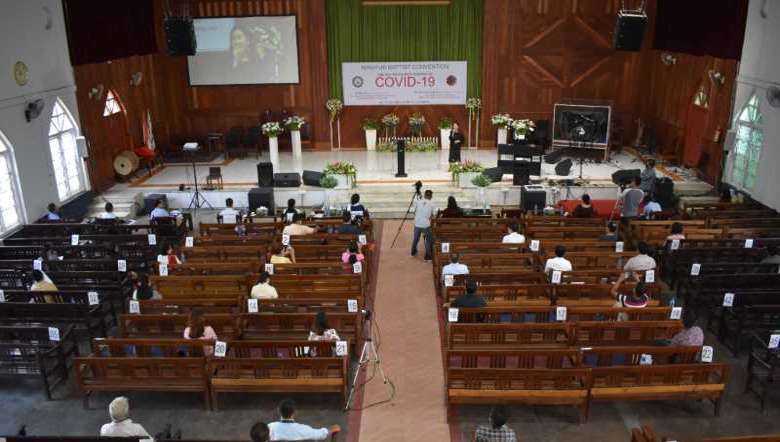 A one-day COVID-19 awareness seminar was organised by the Manipur Baptist Convention in Imphal on July 17, 2020 (PHOTO: IFP)
---
Fear of COVID-19 spread makes people follow safety guidelines and precautionary measures to prevent contracting the disease and help contain the spread. Fear of the coronavirus can also cause panic attack and affect one's mental state and health condition, say experts.
"Fear of COVID-19 is good since it forces people to follow proper precautionary measures. But excess fear can create a panic attack and it will also lead to poor lifestyle," Dr RK Lenin of RIMs said at a seminar on COVID-19 awareness in Imphal on Friday.
The one-day seminar was organised by the Manipur Baptist Convention (MBC) to spread awareness on the COVID-19 pandemic and help fight the fear of it as many people are gripped by fear of being infected by the virus as they struggle to live with the crisis situation.
Dr Lenin, who is the head of Psychiatry department at RIMS, spoke on 'The Psychological impact of COVID-19 on the psyche of people from all ages and different walks of life'.
The fear factor will result in decreased physical activities among the people as they remain indoors most of the time. It will affect the sleeping and eating habits of the people and may lead to weight gain and other related health issues, Dr Lenin said.
Dr Lenin also expressed serious concern over the possibility of increasing domestic violence as families share space at home. He said that since families spend more time together, there is the possibility of increase in conflicts and domestic violence.
Also, many youths remain idle amid the lockdown situation and it is likely to push them to resort to drugs and other intoxicants out of boredom, he said.  
Returnees who have been working outside the state for many years are also likely to face difficulties in adjusting with the lifestyle in the state, Dr Lenin said.
Since the children who are supposed to be playing outside the house have also been forced to stay home they are likely to experience loneliness and depression, he said.
COVID-19, however, has a positive impact on the environment. The air and the rivers are cleaner and it is claimed that pollution level has also decreased to a certain extent, he said.
Dr Lenin also said that people are becoming conscious of the need to increase the production of indigenous products of the state after the sufferings they experience during the lockdown.
State in charge for the Community Volunteer Coordination Team on COVID-19, Dr. Jubilee Wahengbam also spoke on the topic, 'Know COVID: Myths and realities and safety precautions and preventive measures'.
She said the World Health Organisation declared COVID-19 as pandemic on March 11, 2020. She said that drinking alcohol does not protect a person against COVID-19. Drinking methanol, ethanol or bleach does not prevent or cure COVID-19. Adding pepper to soup or other meals does while eating garlic does not prevent or cure COVID-19, said Jubilee.
Dr Jubilee said that people should not wear masks while exercising since sweat can make the mask become wet more quickly which makes it difficult to breathe.  The sweat can promote the growth of microorganisms.
Further saying that thermal scanner cannot detect COVID-19 and it is only a device to detect fever, Jubilee also pointed out that spraying and introducing bleach or disinfectant in a body will not protect against COVID-19 and instead it can be dangerous.
Briefing the media, secretary, Youth and Education, MBC, Reverend Raimi Rimai said the church felt the need to spread awareness on how to combat the virus and at the same time, how to live with it. He said that the video recording of the seminar will be distributed to 29 associations with about 2,20,000 members.
Only a few selected representatives of different church associations were invited to the seminar to enable social distancing during the gathering at the church.
The Manipur Baptist Convention is the biggest Christian organisation in the state formed by 1,476 churches and fellowships with more than 2,20,000 members which are clubbed together under 29 different associations from various communities in Manipur.
MUST READ -Want to bring change in the education system of Manipur: Class-12 topper Archana Hijam
First Published:
July 17, 2020, 8:42 p.m.