O Joy seeks governor's intervention in Lhukhosei Zou case
If investigation is done against the CM when he is currently holding his post, the investigation results will not be genuine, Joy said.
---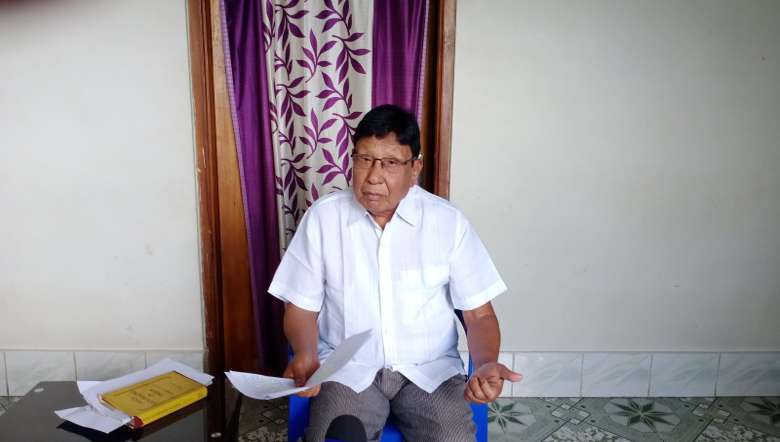 O Joy (PHOTO: IFP)
---
Manipur veteran politician O Joy on Thursday appealed to Governor Najma Heptulla to use her discretionary power and suspend Chief Minister N Biren Singh for free and fair investigation in regards to the affidavit submitted to the High Court of Manipur by MPS officer Th Brinda.
Speaking at a press conference held at his residence at Kakwa, he said the affidavit submitted to the court mentioned that the chief minister and other high ranked police officials and a leader of BJP state unit allegedly mounted pressure on her to suppress the drugs haul case of Lhukhosei Zou who was the chairman of ADC Chandel.
As a head of the state, the governor needs to intervene on the matter as the case allegedly involved many high profiles including the chief minister who is the leader of the state as per the affidavit, said Joy.
If investigation is done against the chief minister when he is currently holding his post, the investigation will not give genuine results, he added.
Lauding the statement of Biren who mentioned that 'whoever involved in the case will not be spared,' Joy said Biren should resign from his post for a free and fair investigation if he really follows the programme of 'war against drugs.'
"Such a case which allegedly involves the people from judiciary, legislature, executive and politician has never happened in the history of Manipur. It is an international level issue and one of the most unfortunate incidents," the veteran politician remarked.
Stating that it was reported in a local daily that the seized drugs from Lhukhosei Zou were lost, he lamented, "It really shows that some police officers are trying to destroy the evidence."
"Whether Biren was involved in the case or not, it is an absolute must for him to resign from his post to deliver justice," asserted Joy.
The public has even started questioning whether the politician has started involving in the drugs business or supporting the drug kingpin, he added.
Joy further appealed to the governor to send the report of the affidavit to the prime minister and the president.         
Lhukhosei Zou was arrested on the night of June 19, 2018 as 4.595 kg of heroin, 2,80,200 "World is Yours" tablet, Rs 57.18 lakh in cash, another Rs 95,000 invalid currency notes were seized from his official quarters at Lamphel, Imphal West.
First Published:
July 17, 2020, 1:30 a.m.