Schools, colleges will reopen once incoming of returnees stops: Education Minister Radheshyam
"We want to make sure that the students are safe when the classes are resumed," the minister stated
---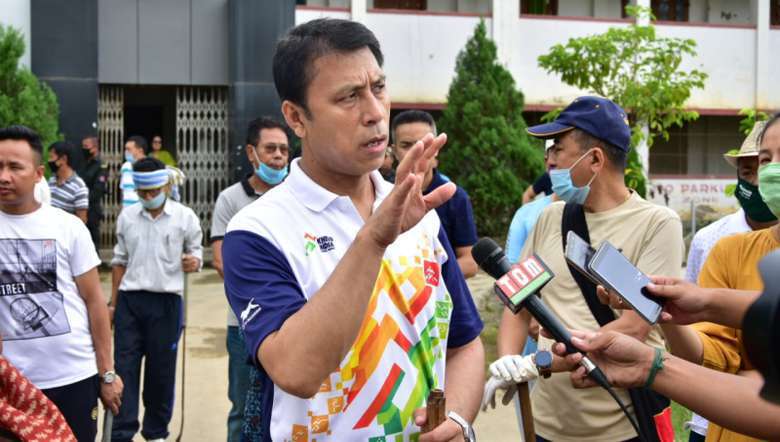 Manipur Education Minister Th Radheshyam interacting with the media (PHOTO: DIPR Manipur)
---
Manipur Education Minister Th Radheshyam on Saturday said that schools and colleges in the state will reopen once the incoming of returnees from other states comes to a stop. He said that the cleanliness drive is part of the preparation to reopen the educational institutions.
The education minister was interacting with the media on the sidelines of a cleanliness drive held at Dhanamanjuri University.
"We want to make sure that the students are safe when the classes are resumed," he stated, adding that similar cleanliness drives will continue from time to time and are being planned to start in the schools as well.
Responding to the media, he said that the government is asking private schools to pay teachers' salary but not to collect monthly tuition fees from students is in good faith. The decision was taken after much deliberation for the welfare of everyone, he added.
Radheshyam further stated that the decision taken by FEGOCTA to suspend online classes is not a right move. "We understand that their demand is genuine and even the government is working on a solution," he said and appealed not to resort to strike/protests considering the present situation.
The minister said that the cleanliness drive was conducted following a decision taken in a meeting with all the principals and officials led by commissioner of higher education and registrar of the university.
"We decided that we need to prepare the campus for reopening of the institutions. Besides, we are showing a path to the young minds that we should be involved in keeping our society neat and clean and that it has to be a part of our culture. We want them to understand that the campus and infrastructure belong to them and they should also take part in cleaning the campus," he added
Officials of the education department, teachers, and students among others took part in Saturday's cleanliness drive.
First Published:
July 11, 2020, 10:20 p.m.