Food products with expired license numbers seized in Manipur
Manipur Food safety officials on Wednesday conducted a regular inspection at different locations and seized the food product, 'New Likla mixed fruit jam', manufactured by Thangjam Agro Industries, Chingmeirong
---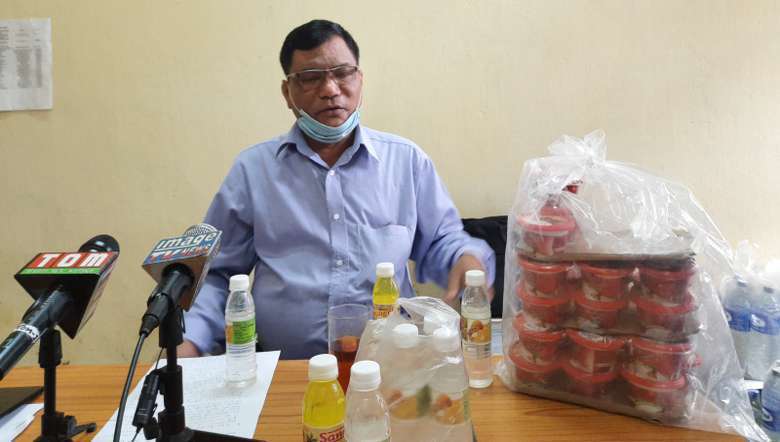 Food Safety Administration official Tekcham Brojendro Khaba Meitei speaks to media (PHOTO: IFP)
---
Food products manufactured using expired license numbers have been seized from two manufacturers in Manipur by the Food Safety Administration (FDA). 
Manipur Food safety officials on Wednesday conducted a regular inspection at different locations and seized the food product, 'New Likla mixed fruit jam', manufactured by Thangjam Agro Industries, Chingmeirong bearing license number 11611008000001.  The officials also seized Pineapple Nectar and Sana Nimbu Pani manufactured by 'A family of food products' Sega road Takhellambam leikai, Imphal West bearing license number 11611009000264.
Speaking to the media in Imphal on Thursday, designated officer of Food Safety Administration, Tekcham Brojendro Khaba Meitei said the license numbers were issued in the year 2011 but they remain invalid after online registration and license was introduced in the same year.
"Food business operators have fooled the people of the state by using expired licenses to sell their products," Brojendro said.
The FDA official appealed to the public not to purchase such food items from the market but to inform the food safety administrations of different districts in Manipur. He also said the Food Safety Administration and the state government will initiate action against the two manufacturers for using expired license numbers.
Alleging that there are other food products with wrong manufacturing dates, expiry dates or even without providing necessary information, Brojendro further appealed to the public to inform the FDA if they came across any such food products.
Brojendro said that as per the Licensing and Registration of Food Business Regulation No. 2.1.2(1), No person shall start any food business unless he possesses a valid license.
The food business operators shall inform the authorities concerned about any change or modifications in their activities and content of licenses, said Bojendro.
The Food Safety and Standards Authority of India (FSSAI) launched its upgraded cloud based food safety compliance online platform called Food Safety Compliance System (FosCos) on June 1 and Manipur is the lone state from Northeast India to be included in the first phase among others.
First Published:
July 9, 2020, 10:04 p.m.